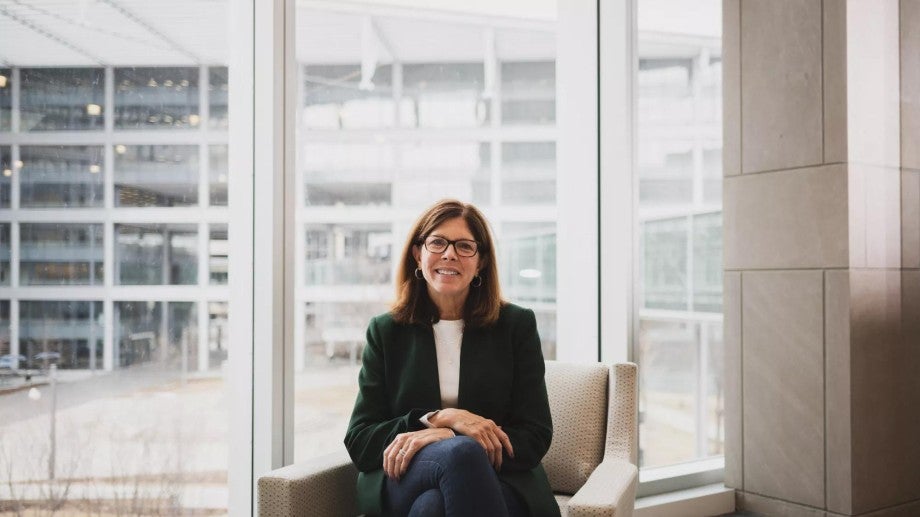 Meet Kathy Kay, EVP & Chief Information Officer
"A lot of people are unsure about finances — and they're afraid to ask for help. Tech has reduced some of that, but we can use information and data in these moments of truth to provide an experience that helps."
What you can expect from us
At Principal®, we offer technologists the opportunities of a high-growth startup with the stability of a Fortune 500® company. Positioned at the intersection of financial services and technology, our work is both cutting edge and purpose-led. Our global tech community embraces the latest technology, tools, and processes that enable our mission: helping our customers lead successful, more secure financial lives by investing in what matters to them.
As a member of our team, you'll work alongside people who are passionate and driven to make a difference. Hear from some of our team members.
A community that cares
The scale of our global organization, combined with our aggressive cloud migration goals, affords our technologists ample opportunity to apply their existing skills, learn new ones, and pursue their passions.
One company, boundless opportunity
Our collaborative technology community allows you to learn from—and feel connected to—peers across the organization.
Contributions that count
As a purpose-led organization, we're committed to offering our technologists the opportunity to work on products that can have a major impact on the lives of our customers and our communities.
Tailored approach to life and work
A deep-seated culture of autonomy and trust means that our technologists are empowered to crack some of today's most exciting fintech challenges while fostering a sustainable personal life.
Valuable total rewards
As a leading provider of retirement planning, asset management, and insurance services, we're committed to comprehensive, generous total rewards.
See what opportunities are available
Bring your skills, talents, and expertise to help our customers lead successful, more secure financial lives.
Search open roles
Transforming our technology workforce
At Principal, technology is essential to our mission of making financial security more accessible. Through the modernization and simplification of our technology stack and a cloud-first mindset, we're able to make faster and smarter decisions that dive better financial outcomes for our customers.
As part of our digital transformation, we've leveraged strategic partnerships to advance cloud skills and upskill our employees. Hear what Beth Herman, AVP - Technology, says about how our AWS collaboration has impacted our people, purpose, and performance.
In partnership with AWS, we've helped our technologists build powerful cloud fluency skills.
Principal received the Fintech Corporate Innovation Award from Plug and Play for our culture of innovation and community partnership.
Principal's Innovation Challenge Hackathon connects small and midsized businesses with our highly-skilled tech community — and with one another.
Valuable total rewards
We support our employees the same way we support our customers: with holistic, competitive benefit offerings designed to protect their physical, financial, and social wellbeing.
Physical well-being
Comprehensive health coverage
Medical, dental, vision, and mental health support for you, your spouse/domestic partner, and/or children.
Wellness programming
Onsite amenities include a state-of-the-art wellness center for you and your family, with access to fitness classes, personal trainers, and message services. We also offer wellness reimbursement programming, mindful food planning resources, and other valuable wellness benefits.
Disability, life, and accident insurance
Short- and long-term disability coverage, life insurance, accidental death and dismemberment (AD&D) insurance and business travel accident insurance.
Financial well-being
Competitive retirement offerings
Our 401(k) plan includes a company match of 75% of your contribution up to 8% of your pay. An investment in you, our pension plan is a 100% company-paid benefit.
Education assistance program
Reimbursement for qualified continuing education costs.
Employee stock purchase plan
Buy Principal stock at a discount.
Free access to financial professionals
Expert guidance and access to financial planning products.
Employee discount program
Money-saving discounts from local and national businesses.
Social well-being
Mental health support
Our Employee Assistant Program provides mental health support via text, virtual consult or in-person care—including up to five one-on-one counseling sessions with certified therapists, per problem, per year—and integrates seamlessly with our medical coverage.
Tailored approach to life and work
Flexible time off policies, generous parental leave, and volunteer time off.
Adoption reimbursement
Help with certain costs related to adopting a child.
Parental leave
Time off for your family with paid leave for the birth or adoption of a child.
Our hiring process.
We understand the hiring process can feel arduous and complicated. We're committed to speed and transparency every step of the way.
Application
After you apply, our teams of dedicated recruiting professionals carefully review all applications to determine potential next steps. Generally within a few weeks of submitting your application, decisions for first round interviews will be made.
Interview
If selected for first round interviews, you'll be asked to complete either a video or phone interview with a recruiter. The recruiter will then recommend candidates to interview with the hiring manager. If you're selected for a second round interview, you'll speak with the leaders either in person, or via a phone or video call. The number of interviews varies from position to position.
Offer
If you're selected to join the team after interviewing, congratulations! Our recruiters will call you to discuss the details of your customized offer. If you choose to accept, we'll follow up with the details you need to prepare for your first day—and a start to a great career.
Principal will never ask for money during any stage of the employment application or hiring process. If you're asked to send money or share personal financial information as part of next steps in the process, do not engage or respond. Contact Principal's Human Resources at 833-261-3736 and your local law enforcement. For more information, review our recruitment fraud information.
---
Ask about reasonable accommodation
If at any stage of the employment application process you need a reasonable accommodation due to a disability, contact Human Resources. Read our employment policies for more information.
Principal is an affirmative action and equal opportunity employer and an E-Verify participant. All qualified applicants will receive consideration for employment without regard to race, color, religion, sex, sexual orientation, gender identity, national origin, disability, or veteran status. View employment policies at Principal. If you live in or are applying for work in NJ, there are state laws protecting you against employment discrimination. View your rights in NJ (PDF).