Businesses remain financially strong, but they're more stressed and expect to feel the impact of inflation.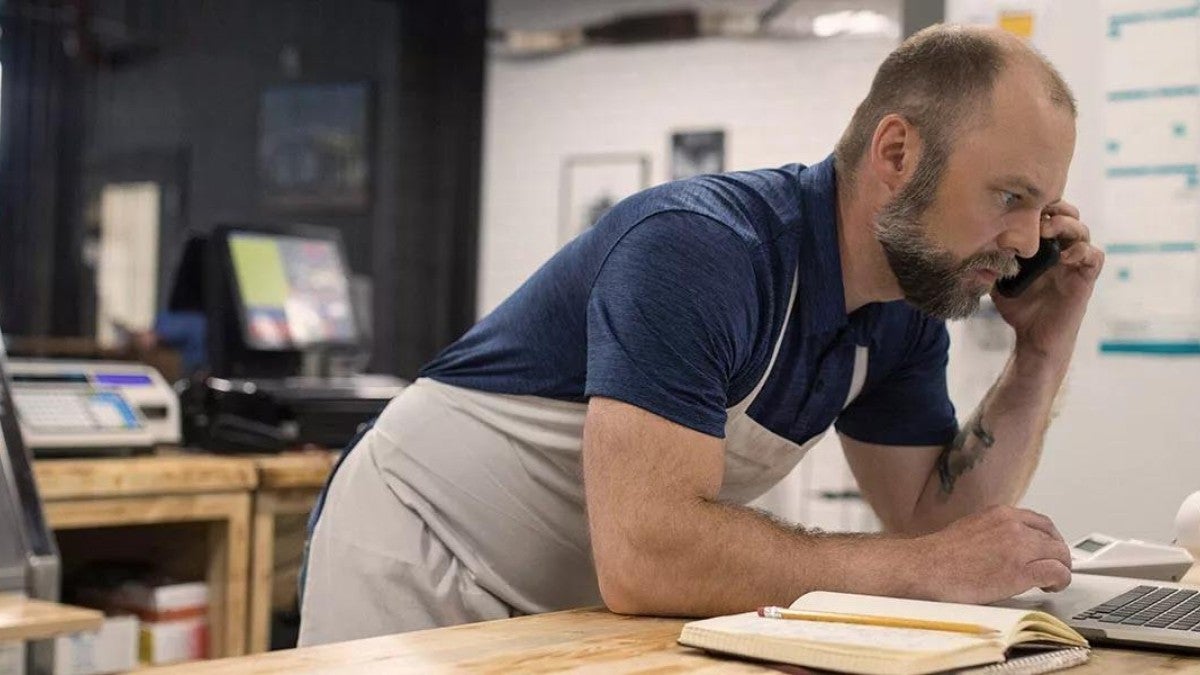 Businesses feel better about their finances compared to a year ago—but inflation, rising interest rates, and other trends have them concerned for the future.
The latest Principal® Financial Well-Being IndexSM showcases both the resilience of United States businesses and the persistence of their challenges, such as hiring and retention.1
Here's a snapshot from each of the four trends in this wave (download the full set of infographics (PDF) to see all the insights):
1. Financials and inflation
Looking back: Businesses report improved financials compared to this time last year.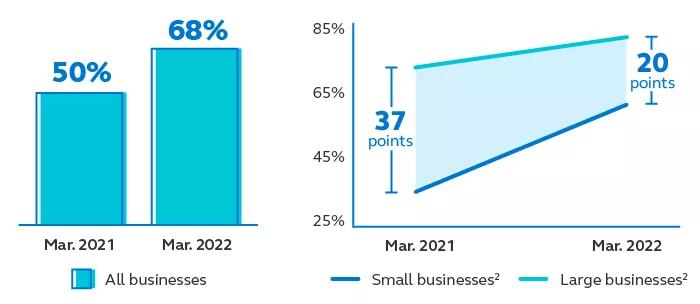 Only 50% of businesses reported improved financials in March 2021 compared to 68% in March 2022. Survey results point difference between small and large businesses reporting improved financials, between 37 points for small businesses to 20 points for large businesses. Small businesses are from 2 to 499 employees. Large businesses are from 500 to 10,000 employees.
Looking ahead: The top two concerns for both businesses and employees are inflation and the cost of health care.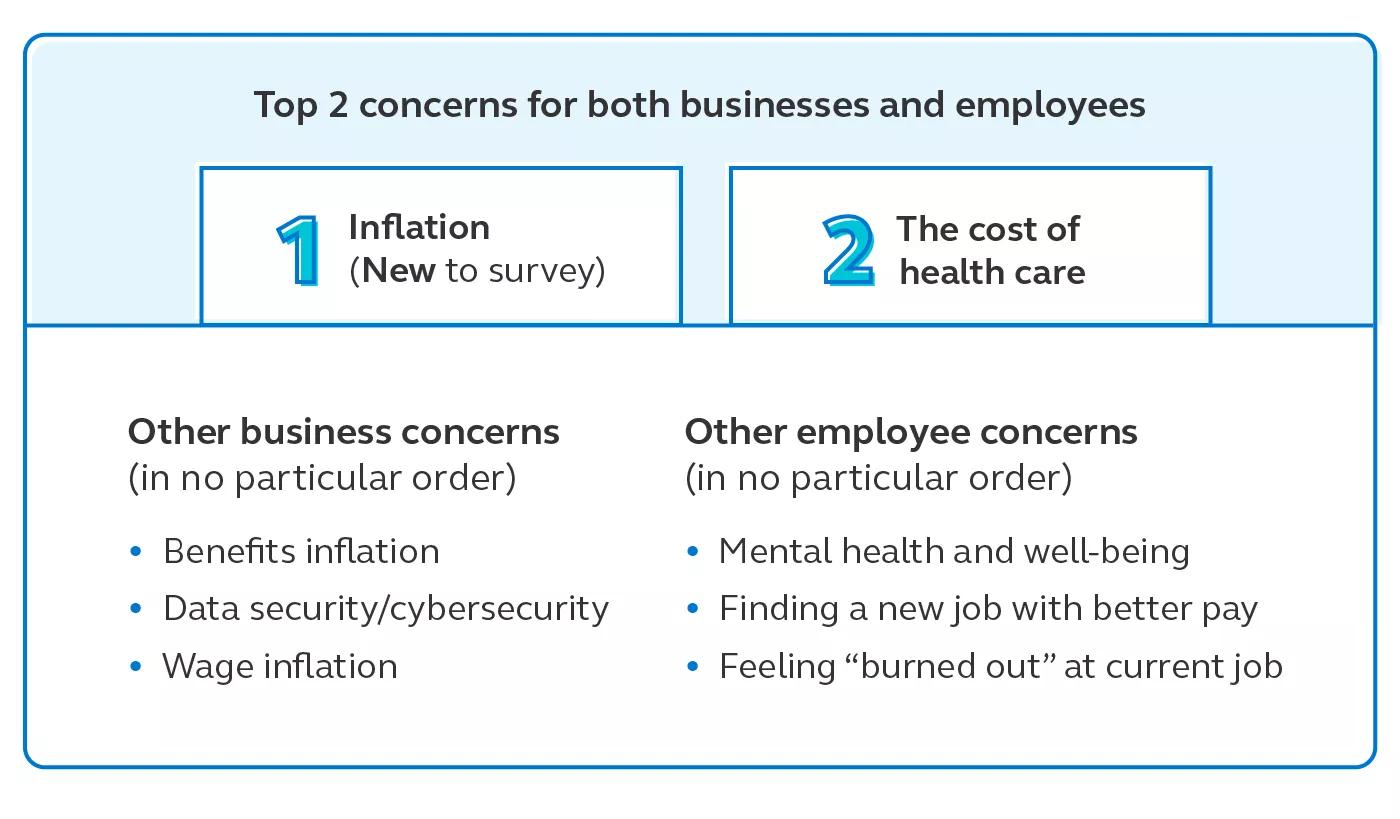 Other business concerns are benefits inflation, data security, wage inflation. Other employee concerns are mental health, finding a new job with better pay, feeling burned out.
2. Job vacancies
Larger businesses especially have more vacancies and are spending more time on employee recruitment compared to about a year ago.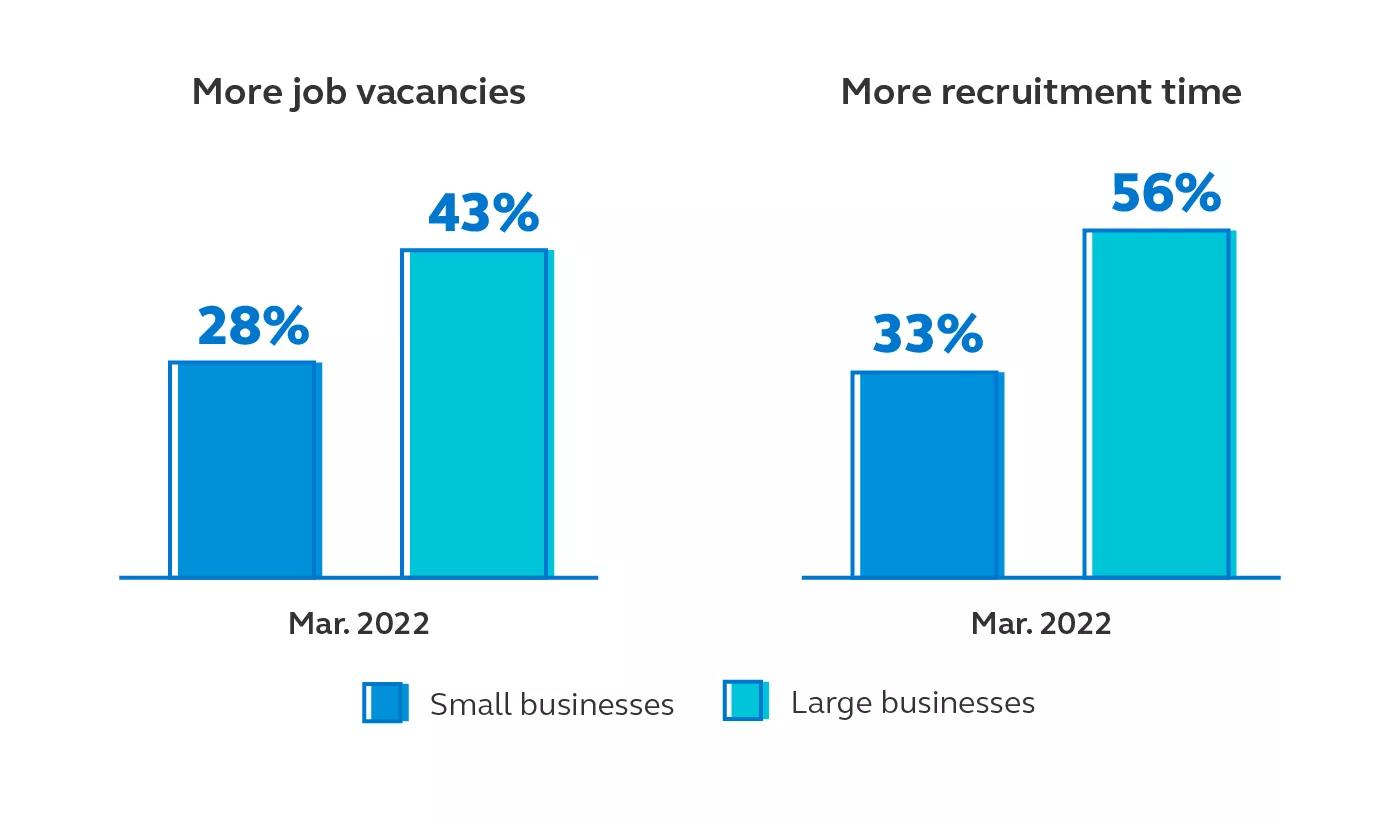 43% of large business report more job vacancies in March 2022 vs 28% of small businesses. 56% of large businesses report more time spent on recruiting in March 2022 vs 33% of small businesses.
3. Employee benefits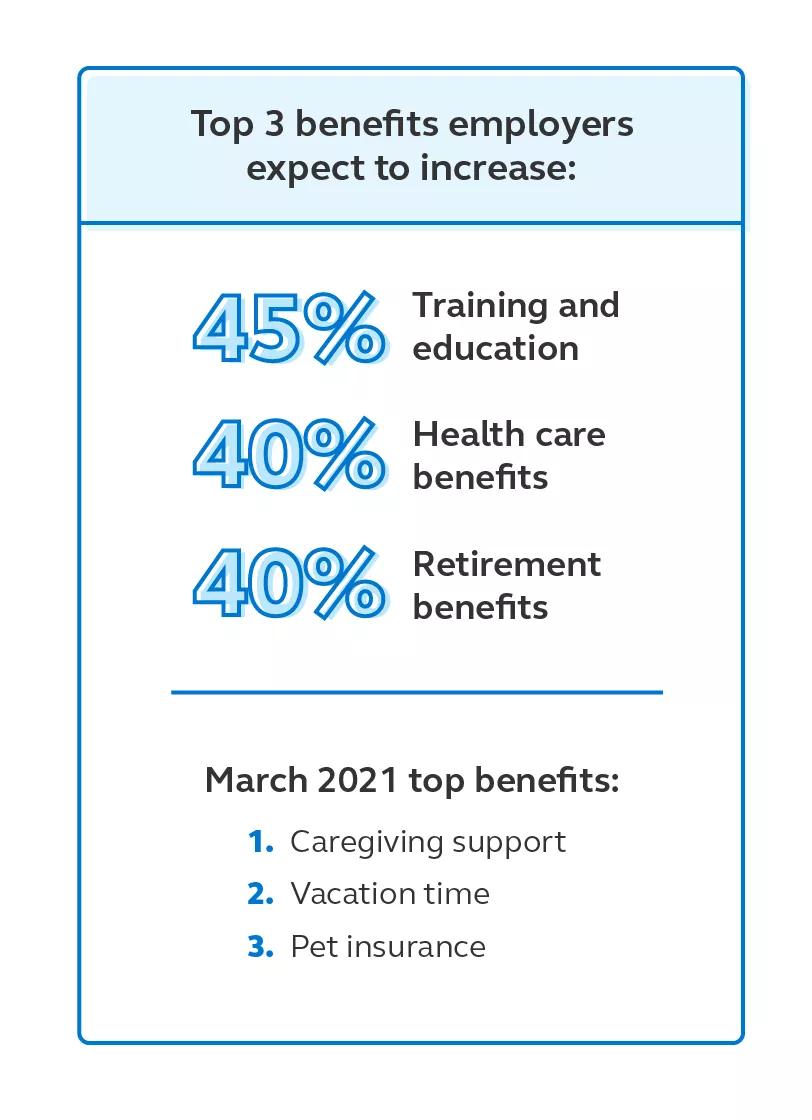 The top 3 benefits employers expect to increase are Training and educational opportunities (45%), Health care benefits (40%), and Retirement benefits (40%). March 2021 top benefits are Telehealth, Mental health/well-being services, and Health care benefits.
4. Retirement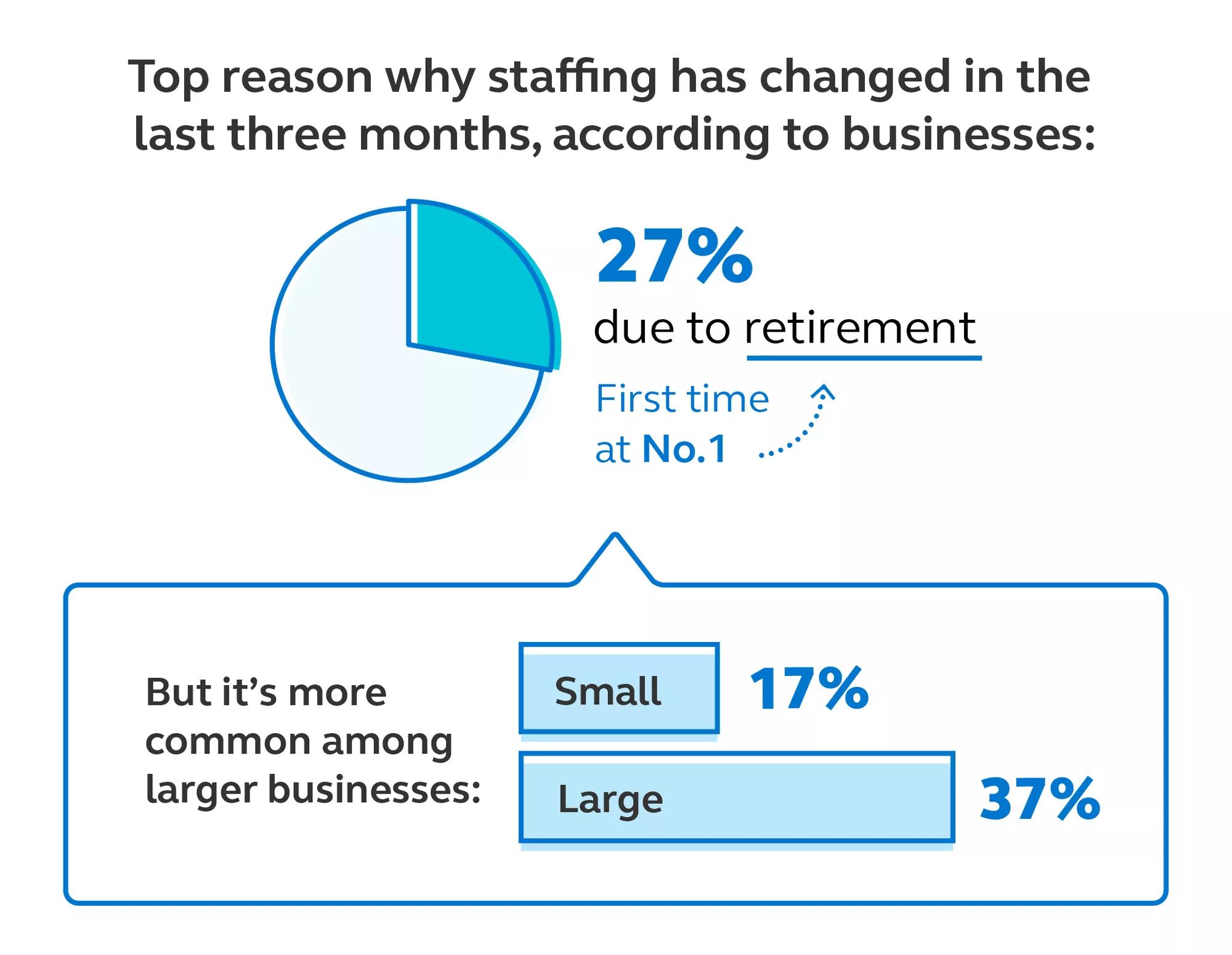 The top reason why staffing has changed in the last three months. 27% due to retirement, which is the first time at number 1. It's more common among larger businesses, with Small businesses: 17% vs. Large businesses: 37%.
Gain more insights from the Global Financial Inclusion Index.
1 The Principal Financial Well-Being IndexSM (March 11-23, 2022) surveyed 500 business leaders at companies with 2-10,000 employees. Businesses must offer at least health insurance or retirement benefits. This wave also included input from 230 full-time employees, surveyed March 11-17, 2022.
2Small businesses = 2-499 employees. Large businesses = 500-10,000 employees.
About the Principal Financial Well-Being IndexSM 
The Principal Financial Well-Being IndexSM surveys business owners, decision makers and business leaders aged 21 and over who work at companies with 2 – 10,000 employees. The nation-wide survey, commissioned since 2012, examines the financial well-being of American workers and business employers. In response to COVID-19, the Well-Being Index was transformed from an annual survey to a quarterly pulse, offering three waves, revisiting questions and measuring sentiment regarding timely issues in the small and midsized business marketplace. In the first pulse of the Well-Being Index in 2022, the employee audience was added to the survey to compare and contrast key ideas and sentiment from employers. The survey was commissioned by Principal and conducted online by Dynata from March 11-23, 2022, with a total of 500 business owners, and decision maker participants and a total of 230 employee participants. The research report focuses on providing a holistic perspective on key trends and timely issues in the small and medium business market.
Principal developed a dedicated portal for employers designed to help business handle the effects of COVID-19 and a challenging economy in the months ahead. To learn more visit Navigating Business Now. 
Dynata is not an affiliate of any company of the Principal Financial Group®
Insurance products issued by Principal National Life Insurance Co (except in NY) and Principal Life Insurance Co. Plan administrative services offered by Principal Life. Principal Funds, Inc. Is distributed by Principal Funds Distributor, Inc. Securities offered through Principal Securities, Inc., member SIPC and/or independent broker/dealers. Referenced companies are members of the Principal Financial Group®, Des Moines, IA 50392.