How diversity, equity, and inclusion are good for business
Diversity in the workplace—with true inclusion—matters to employees, customers, and your long-term business growth.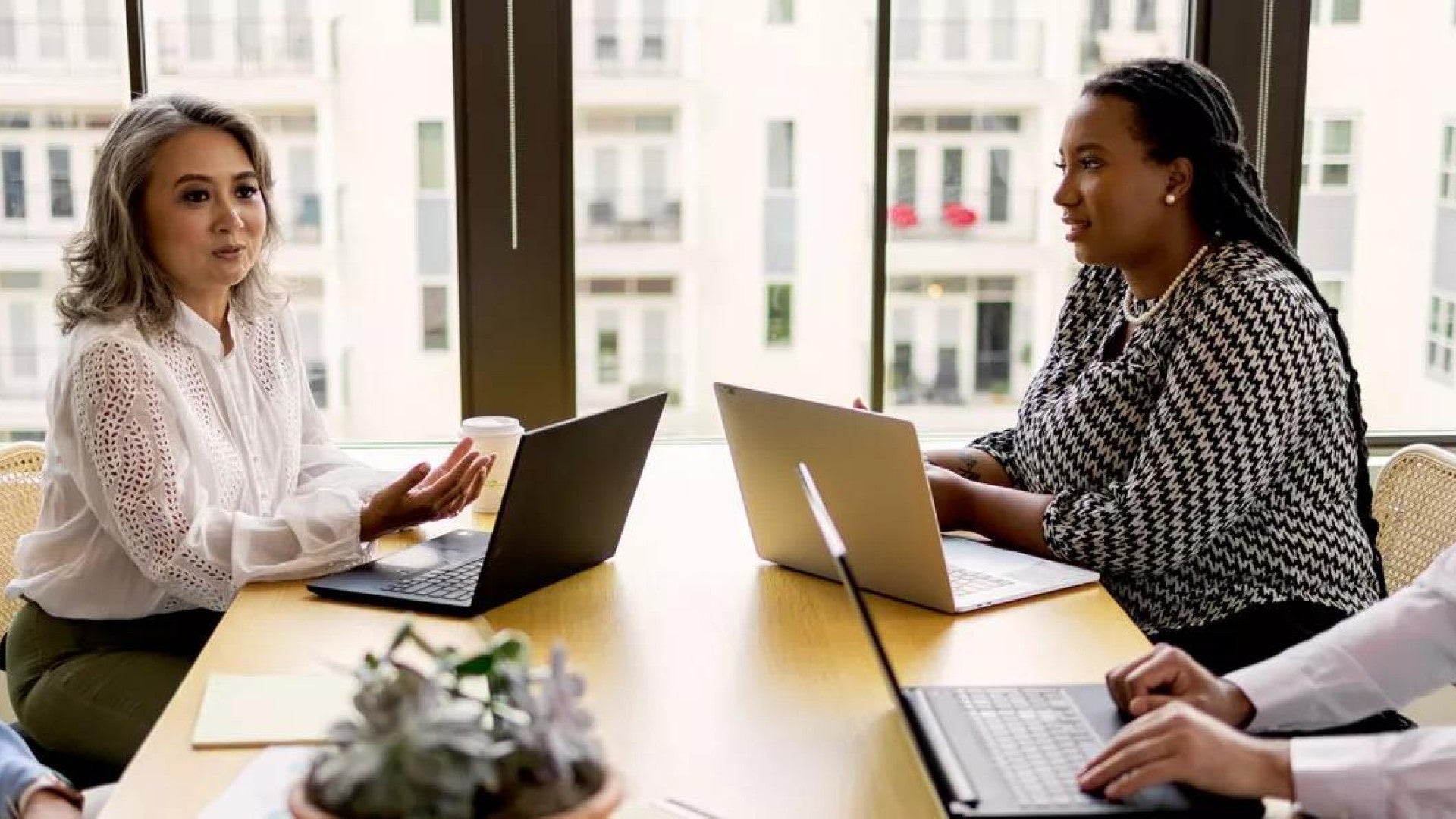 5 min read

|
With an expanding client list, BigBear.ai., a tech firm and military contractor, has also grown its workforce. But adding people isn't as simple as filling office chairs and desks. Diversity and inclusion play a big role at this Maryland-based company, which has operations in four states.
"Our workforce is incredibly dynamic," said Sean Battle, who previously was vice chairman and chief strategy officer for BigBear.ai. "More diversity has made it more rewarding for employees and makes us better by improving ingenuity."
As BigBear.ai and thousands of other companies have discovered, DEI (diversity, equity, and inclusion) can be a boost for employees, and it's good for the bottom line.
A six-year study found that more ethnically and culturally diverse businesses (PDF) are as much as 36% more profitable than the least diverse companies. The profitability gap widens to 48% between the most and least diverse businesses according to gender alone.
Here's how diversity in the workplace may help you add (and keep) valued workers, attract more customers, and grow your business over the long term.
Diversity and inclusion support your recruit-retain strategy.
Two plus years in, the lockdown-required shift to remote work has evolved to a more permanent embrace of more flexible work. In fact, 45% of businesses expect to increase flexible schedules, while 43% plan to offer remote work options—no matter what—going forward.
Hybrid work can help to expand the recruitment footprint, which also supports a commitment to diversity and inclusion. "You're now considering talent outside of your local city or region, which could mean recruiting from more diverse communities," says Miriam Lewis, chief inclusion officer for Principal®.
Diversity in the workplace expands and solidifies your customer base.
Customers who see themselves and their concerns reflected in the products they buy and services they use become loyal to brand, says Carlos Navarro, assistant vice president of customer experience for Principal.
"If you want to compete in the marketplace, you have to be inclusive," he says.
The Principal Hola Futuro campaign reflects that, helping to bring culturally relevant financial resources to the Hispanic community so that businesses can better nurture employees. It's more than just a Spanish-language website; the campaign provides digital enrollment and financial education designed around the lives of its target audience.
"We know that Hispanics are typically digital natives and are over-indexed on mobile, so we focused digital education and building out more mobile resources," Navarro says. Hola Futuro initiatives include the Principal app in Spanish, too. "We make sure the information we provide aligns with what's important to them culturally."
A DEI strategy can help build long-term business growth goals.
One of BigBear.ai's diversity and inclusion efforts is the Women of BigBear.ai, which supports women in the workplace by identifying and creating opportunities for their professional advancement and growth. Their DEI strategy is sustainable because it aligns with the overall business strategy and structure.
"That ensures we bring our best to market," Battle said. "When employees see themselves in our efforts, and our voice echoes their concerns, they feel like an essential part of the team."
Not every business's approach to diversity in the workplace looks the same. While smaller companies may lack the dedicated DEI executives and large committees of corporate America, they can make real progress by sparking employee conversations and raising awareness in an environment of mutual respect.
"As tennis icon Arthur Ashe once said, 'Start where you are. Use what you have. Do what you can,'" Lewis says. "A holistic approach to diversity and inclusion is a challenge. But for those businesses that are really thinking big picture, it will be a win—one that we can all benefit from in the long run."