Need to work in retirement? This couple does it. And from their view, they're sitting on top of the world.
The Pressleys achieved retirement through hard work and a mix of savings and investments. But they're also part of the fastest growing group in the labor force: those working in retirement.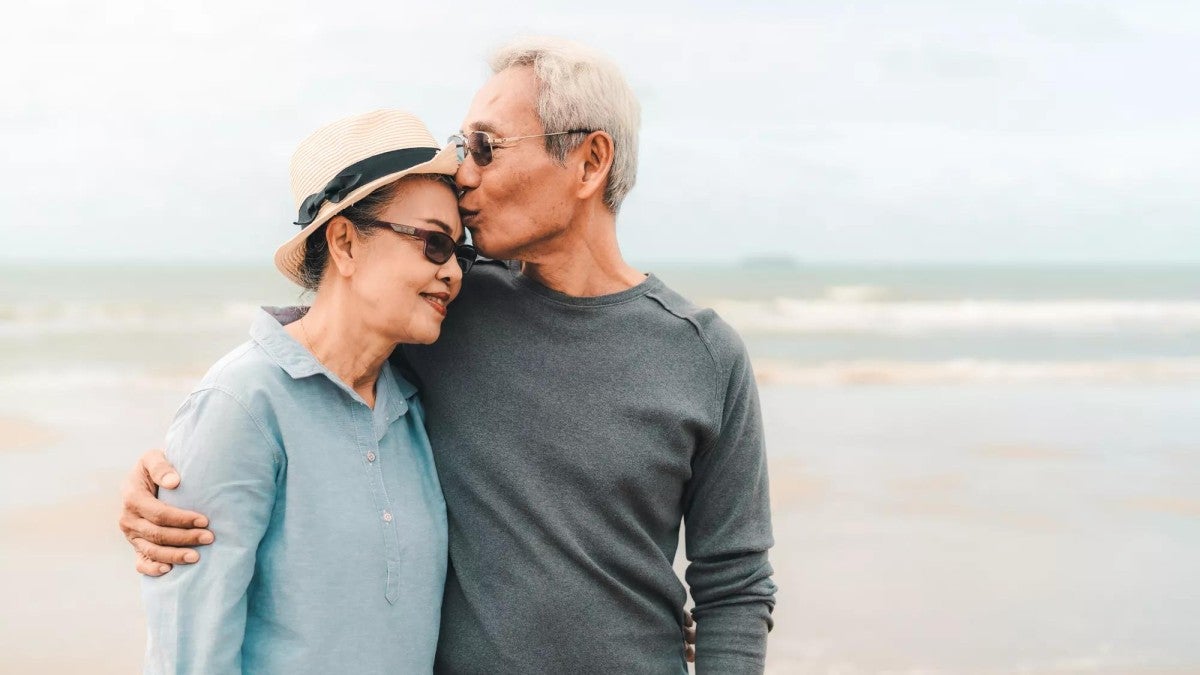 Sunlight flashes through the clouds, and the mountainside flickers to life in dazzling hues of green. Scotty and Nancy Pressley live on this forested canvas in rural Glenville, North Carolina, part of the Blue Ridge Mountains. The couple adores this family land as they toil here daily in their transition into retirement.
The steep mountainside is covered with 14,000 Fraser firs—to be sold as Christmas trees—filling about half of the 25-acre farm.
To see Scotty, 74, through his thick bristly beard, you might not take him for a romantic—until he waxes poetic about this land. "I'll be out here in these trees working, and I need a break," he says. "I'll lay down on the ground and stretch out and just melt."
Shirley Pressley Road—named after Scotty's grandfather—snakes its way up the mountain to where a person can stand 4,000 feet above sea level and survey the surrounding peaks. It's a fitting vantage point to appreciate one couple's breathtaking view of retirement, which they've realized through hard work, steady planning, and a mix of investments.
The Pressleys certainly aren't alone in working in retirement. According to the Employee Benefit Research Institute, nearly a third of Americans do so1—whether it's in a professional/managerial capacity, a part-time job that pays the bills, a passion project, or some combination of the above.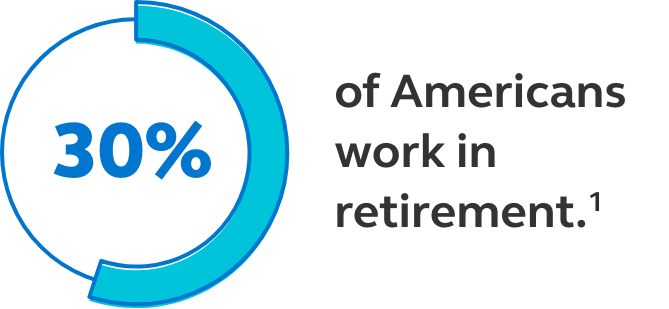 The Pressleys' tip:
The tree fam generates about 30% of the couple's income. Nancy took her Social Security early at age 62. Scotty waited until 66. That represents another 25% of their retirement income.
A gradual retirement—with work at its center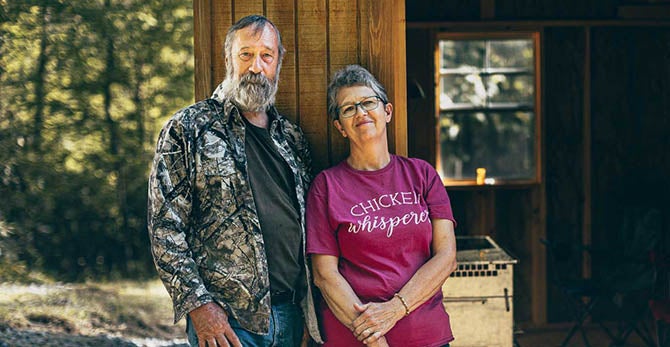 The Pressleys' farm is situated about as far south as Fraser firs can grow. The moisture, cool temperatures, and acidic soil sprouted a thriving local industry.
The couple, married 48 years, first planted their trees in 1975. But their choose-and-cut business began decades later, through word of mouth among friends and neighbors.
Working on this mountainside is part of what Nancy, 66, calls their hands-on retirement. "It's a tangible thing," she says. "It's very tactile."
The Pressleys operate their tree farm with their adult children. And Scotty, who's survived a pair of heart attacks and a stroke, still works as a grading contractor for a local housing development, too. It helps him ease into retirement—both emotionally and economically. It's more the former; if he stopped working today, the Pressleys could afford a comfortable retirement, but he loves to stay busy.
"I'm tapering down," Scotty says. "I've been tapering for 12 years."

The Pressleys' tip:
Consider maintaining supplemental insurance in addition to Medicare coverage. This protected the Pressleys during Scotty's health scares—preventing extreme out-of-pocket costs.
Living the backyard retirement dream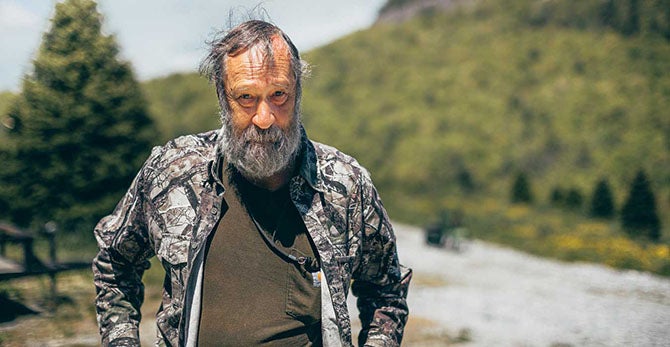 The Pressleys' backyard retirement—that happens to be a mountainside—is fairly simple and thrifty. They built a new smaller double-wide modular home six years ago next to their old model. It was an economical choice familiar to so many retirees who downsize. The Pressleys were able to connect to the same septic and water systems and live in a more energy-efficient home. Saving money on living expenses also helped them protect their most precious asset: the land and tree farm.
Nancy relishes sleeping in later than 5:30 a.m. and the flexibility to go on an impromptu "day loafer" with Scotty. Or to welcome their grandchildren onto the farm that they've preserved for this younger generation.
"That's something you don't get back: time with those kids," she says.

The Pressleys' tip:
Consider taxes in your retirement budget. One benefit of operating the tree fam is that the Pressleys can enjoy a lower tax rate for their land compared to the standard residential rate.
A retirement built on the land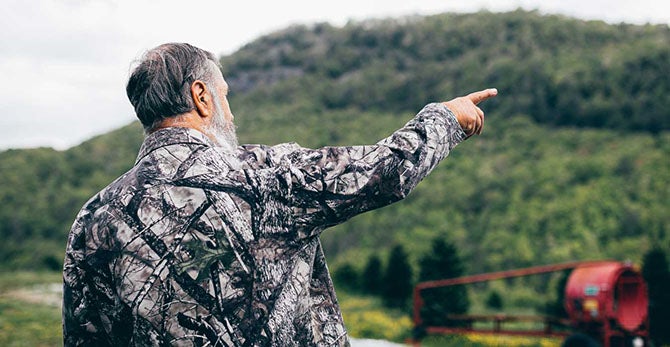 The Pressleys have always benefited from their mix of physical assets to help diversify their savings. So much so, that these materials, in a way, tell the story of their retirement:

The Pressleys' tip:
Save money in diverse assets. That could include your own version of a tree farm or valuable goods, as well as an IRA.
And, of course, there's the tree farm. The Pressleys inherited half the land and purchased half from Scotty's parents. And they've already anticipated their next move with the tree business: They transferred it to their children through a tax-friendly LLC.
Wood: Scotty was introduced to the logging industry as just a young boy, watching his relatives work in the woods. By his teen years, he was chopping trees after school until dark. He and his younger brother would hand cut as much as 11 tons of wood in a week to sell on Saturdays, learning the value of incremental savings based on hard work.
Plastics: Nancy worked the bulk of her career—26 years—at a local plastics factory, where she contributed faithfully to her employer's Principal®-administered 401(k) plan with its employee stock ownership plan (ESOP). She painted plastic parts for about seven years before being promoted to foreman, then quality assurance.

The Pressleys' tip:
If you get a raise, put at least half of it into a savings account. If you never see it, you don't miss it.
Scotty encouraged Nancy to contribute to her 401(k) and take advantage of the "free money" of matching company contributions—what Nancy considers the first financial advice she received.
"That first dollar you save is going to earn you the most money of any other dollar you've got," Scotty says.

The Pressleys' tip:
If you have a retirement fund with structured withdrawals, like an ESOP, consider this the "big bathtub" to feed a smaller but more flexible "bucket," like an IRA. This allows Nancy to easily withdraw her retirement income.
Steel: The couple's equity is tied up not only in trees and acres but also in the massive steel equipment they've purchased for Scotty's contract work. They're able to sell everything from dump trucks to excavators to generate additional retirement income.
Glass: "Mountain women have always been artistic," Nancy says. Instead of crochet hooks or quilting needles, she wields a propane torch to melt 14-inch rods of colored Italian glass into earrings, necklaces, and other jewelry. After just a year with the hobby, she became confident enough to sell her crafts at local shows for profit.

The Pressleys' tip:
Consider money from a hobby or side project a "squirrel nest" to help pay for holiday gifts or family vacations.
Passing on their values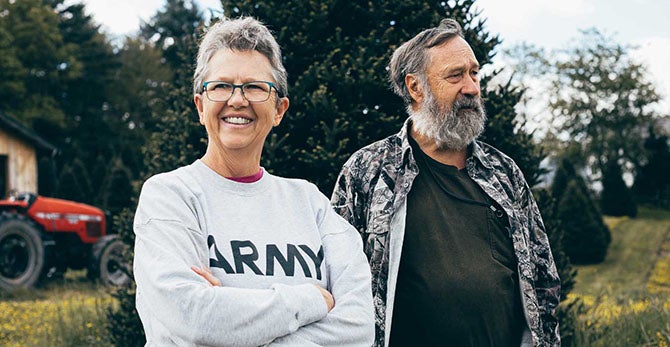 Nancy used to entertain the thought of retiring to Florida, but now the Pressleys intend to stay on their farm for as long as possible. "In the mornings I just lay there and look out at the green," Nancy says. "You don't get used to it."
Their retirement is rooted not only in family land but also in a sense of purpose in how they're preserving their values and work ethic for their children and grandchildren.
"They know we're old, and they know we're still working," Nancy says. "It's about passing on your testimony. Teaching them that they're not going to reach a certain stage and just sit there."

The Pressleys' tip:
"The easiest money that you can make is the money you make with your money. If you don't see it, don't touch it. Leave it alone, and it'll work for you 24-7. The earlier you start saving, the better off you are," Scotty says.
1 Employee Benefit Research Institute (EBRI) Retirement Confidence Survey, April 2021.
Asset allocation and diversification do not ensure a profit or protect against a loss.
Not indicative of future results. Results will vary based on retirement plan characteristics.
This document is intended to be educational in nature and is not intended to be taken as a recommendation.
Insurance products and plan administrative services provided through Principal Life Insurance Co. Securities offered through Principal Securities, Inc., 800-547-7754, member SIPC. Principal Life and Principal Securities are members of Principal Financial Group®, Des Moines, IA 50392.