6 things to do with your money before having a baby
Whether you're a new parent or you've got a little one on the way, the time to plan for your family's finances is now.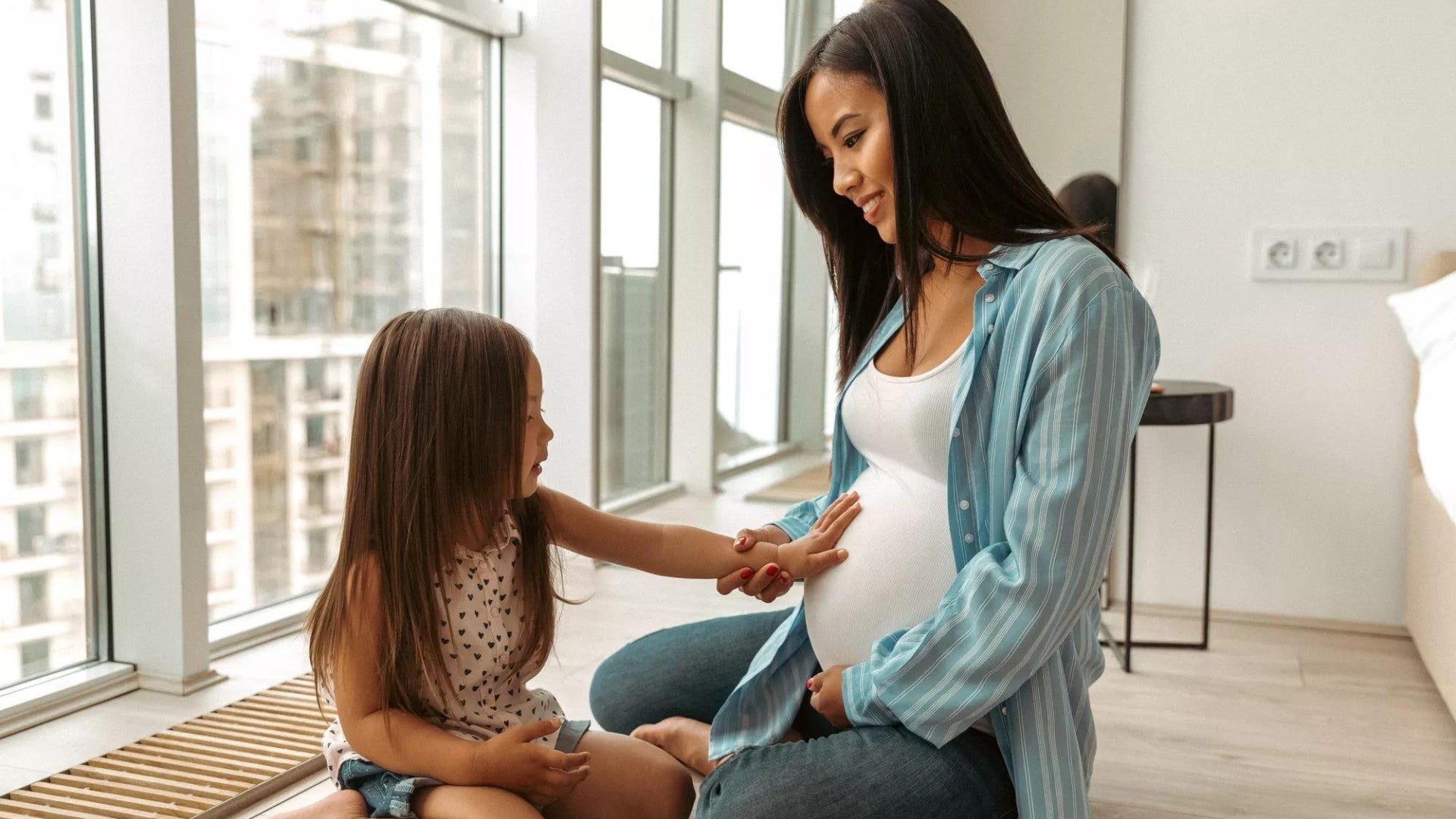 6 min read

|
When you're a new parent or you've got a little one on the way, what was once a personal financial priority may no longer matter as much. Things you may not have thought twice about—such as college savings plans or life insurance—will now become important. Taking some time to evaluate your family's finances may help ease a few of those new-baby worries.
Here are six ways to help financially prepare for a baby—with ideas from a mother who's been there.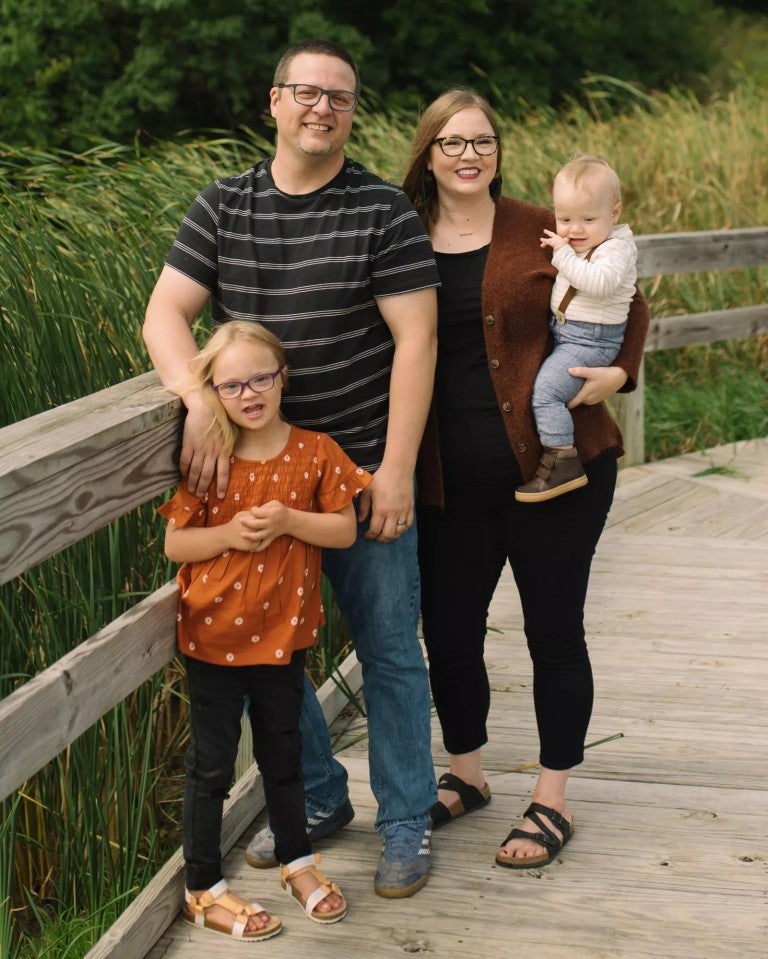 Babcock with her husband and two children. Photo by Justin Salem Meyer.
1. Start (or build upon) an emergency fund for your family.
One of the most important money moves is setting aside some cash for unexpected expenses. A solid emergency fund holds three to six months' worth of your take-home pay. If that sounds overwhelming, start with $1,000, then shoot for one month of expenses, and before you know it, you'll be at your goal.
Katie Babcock, a marketing professional at Principal®, says she and her husband were responsible savers already but having children upped their game. "We can't think of all the different scenarios in which we might have to use those emergency funds, but just knowing there's something there to fall back on helps us sleep better at night," she says.
2. Create a budget with a baby in mind.
Develop a budget that accounts for your current living expenses, plus all of those related to having a baby. Besides ongoing costs—health insurance, copays for doctors' visits, diapers, formula, food, clothing, and daycare—factor in one-time charges for things like outfitting the nursery and stocking up on baby gear.
"There are so many things that a new baby ends up needing, and it adds up quickly," Babcock says. "You buy a stroller and a car seat, then you buy a couple more things, and you realize, this is more expensive than I thought."
Her tip? Budget as realistically as possible, doing some preliminary research into what car seats—with your preferred ratings and safety features—really cost, for example.
3. Keep saving for yourself.
Your instinct may be to give all to your baby, but take care of your financial future, too. It's smart to keep funding your retirement—at least up to your company's matching contribution. Skimping on contributions to save for a bigger home, for example, could hurt your retirement savings.
"We've always prioritized retirement savings for ourselves because we know that the sooner we save, the better off we'll be long term," Babcock says. "We've made other cuts for our growing family—some of the fun stuff, some of the entertainment—but we know in the long run, that's going to pale in comparison to our savings."
4. Adjust your benefits as your family grows.
Talk to your company's human resources team about changes you're allowed to make when the baby comes; it generally counts as a qualifying event, so you can make changes outside of the typical open enrollment period.
You may want to enroll in benefits you previously skipped, such as a dependent-care flexible spending account (FSA) to pay for daycare or individual disability insurance, which helps protect your paycheck in case you get sick or hurt and can't work for an extended period of time.
5. Consider saving for your child's education.
It's never too soon to squirrel away money for higher education. When you start early, you can set aside small amounts that add up over time. Read up on your state's college savings program, which may offer preferential tax treatment.
Babcock recently finished paying off her own student loans, so saving for her children's education is one of her highest priorities. "The only way I know we're going to be able to help is if we start saving sooner rather than later," Babcock says. "It's a little less daunting when you have 18 years—saving a little bit here and a little bit there—than if you only had, say, five years to catch up."
Another idea to relieve some of the pressure: "We've asked our parents to consider contributing to a college fund for birthdays and gifts, rather than buying more things that a kid will outgrow in a few months. It'll pay off long term," Babcock says.
6. Create a plan to ensure your family is taken care of.
Consider meeting with a financial professional to help confirm you have adequate life insurance coverage, as well as an attorney to help you draw up a will. Rest easy knowing your family will be taken care of if you aren't around.
"It's hard to imagine a world where you and your kids aren't here together," Babcock says. "But I don't want to let my emotions keep me from making sure things are in order if the time comes that my husband and I can't make those decisions.
"We've got everything outlined and we spoke to our families about it. If something were to happen tomorrow, I know my wishes for my kids would be followed to a T."
What's next?
How are you progressing toward your own financial future? Log in to principal.com to see how you're doing. Don't have an employer-sponsored retirement account or want to save even more? We can help you set up your own IRA.