Benchmark benefits you offer for group insurance and retirement plans with the Principal® Benefit Design Tool
Compare these benefits to similarly sized organizations in your industry and region.
Dental insurance
Short-term disability insurance
Long-term disability insurance
Life insurance
Retirement plans – 401(k) and 403(b)
Get a report after answering a few questions about your organization
View results online immediately. Then print or save a copy of the report for future reference or to share with others.
Remain competitive by offering a benefit package to help attract and retain employees
Even if you don't currently offer employee benefits, find out what other small businesses offer. This comparison tool is designed for any employer, for-profit or non-profit, with 3-100 employees.
Employee benefit packages can have a big impact on your employees' future
Compare employee benefits with businesses like yours.
Compare now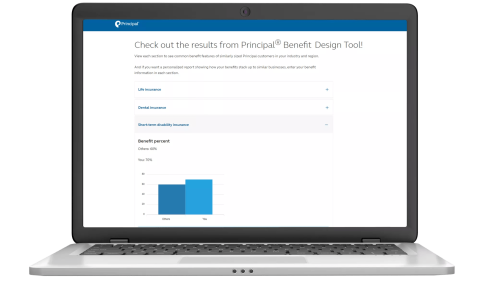 For illustrative purposes only.
Don't offer benefits and want to learn more?
Retirement plans help your employees achieve financial security and save enough for their financial future.
Learn more about qualified retirement plans.
About the Principal® Benefit Design Tool: Each employee benefit will be compared against similar sized Principal® customers in your industry and region.
This is the average result experienced by defined contribution plans and/or group insurance customers of Principal Life Insurance Company. Comparison data is updated annually, and results are accurate as of December 31, 2022. Choices made by employers, fiduciaries and participants impact the results. Organizations may consider the average, along with other factors, when deciding which features best suit your needs. We strive to include a minimum of 100 plans of similar size in your industry and region.
This information is provided for general education and is not intended as a recommendation.
This summary is not a complete statement of the rights, benefits, limitations and exclusions of the insurance described here. For cost and coverage details, contact your Principal representative.
Insurance products and plan administrative services provided through Principal Life Insurance Company®. Securities offered through Principal Securities, Inc., member SIPC and/or independent broker/dealers. Referenced companies are members of the Principal Financial Group®, Des Moines, IA 50392.
2190989-052022