3 ways to support mental health at work
Supporting mental health at work comes from events that build connections, employee resource groups that offer support, and benefits that connect with resources expertise.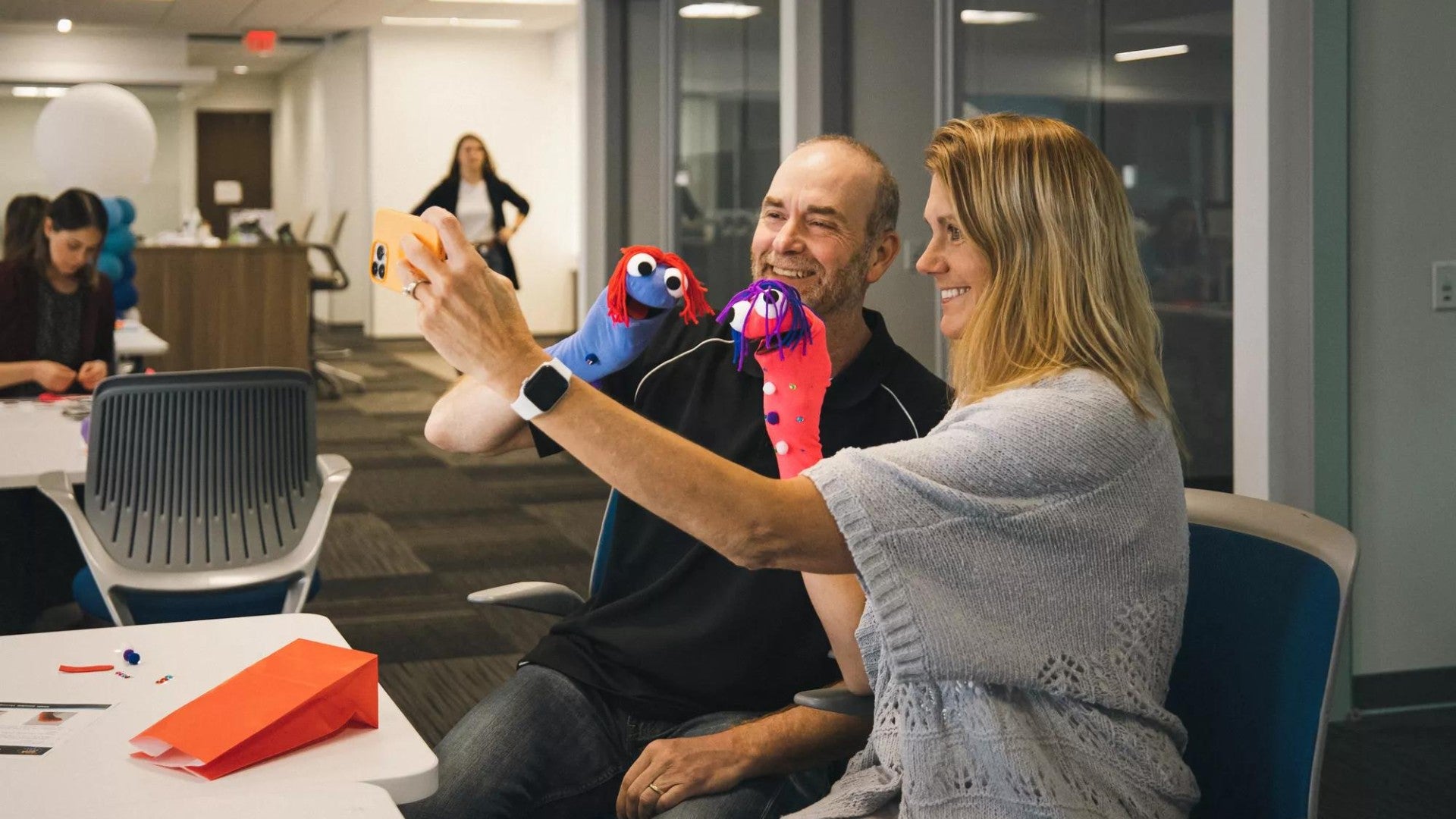 5 min read

|
When Chery VanHouweling signed up for the Feel Your Best Self (FYBS) volunteer event, she thought it sounded fun—a lunch hour at Principal® creating an educational puppet kit for schoolchildren. "Expressing my creativity and getting outside of myself to do something with more purpose—for me, it's a no-brainer," VanHouweling says.
For VanHouweling, the event, organized by the Principal® Foundation, quickly morphed into something bigger. She made a kit—then two puppets for her grandchildren. She shared notes about the group with her daughter; maybe a local youth support group could plug into FYBS. And VanHouweling, a senior change management consultant, wondered how FYSB might work with volunteer efforts for other agencies in her community. "Just being in a room with people I don't know and possibly making some new friends along the way is inspiring," she says. "It's a great mental health opportunity."
Employers like Principal have increasingly realized that supporting mental health through volunteer events like FYBS, employee resource groups (ERGs), or employee assistance programs (EAPs) improves not just the workplace, but work overall.
Volunteering: Offering a connection to mental health
VanHouweling connected what research has already proven: Volunteering does give a boost to mental health. It improves happiness and confidence1 and leads to a flood of feel-good endorphins.2
Providing access to those volunteer opportunities at work is even more important at this moment. More people than ever are struggling with their mental well-being at home and at work.
For example, 24% of U.S. adults say their mental health is either fair or poor; women, younger adults, and those with lower annual household incomes suffer in greater numbers.3 Nearly two out of five adults—39%—say work negatively impacts their mental health, reporting mental health concerns, performance issues, and stress.4
Struggles with mental well-being don't stop once you get to work; if you are suffering, you may have reduced focus, insomnia, and decreased teamwork.5 Workplaces that ignore mental health supports may also face increased attrition, particularly with younger generations.6
"Similar to physical illness, when mental health suffers it is difficult to deliver peak performance at work," says Mackenzie Sheehan, senior associate, Principal Foundation and community relations. "Mental health struggles can impact focus and steal joy from work we love."
ERGs: Finding supportive communities
Both Jennifer Schwartz and Anna Mundy have children with severe medical challenges. Schwartz's son has muscular dystrophy, and Mundy's son was born with spina bifida. For their families, it's not just about caregiving and adaptations; there are also mental and emotional hills to climb—again and again. Having a workplace that supports their total well-being and provides employee resource groups, or ERGs, to share resources and stories helps.
"My leaders and my department both conveyed that I needed to take care of myself," says Mundy; she's legal counsel with Principal. "I didn't feel like my ability to come back to work was in jeopardy." For Mundy, sharing her experience is a way of supporting her well-being—and others, too: "I've learned things going through what I've gone through, and so I can offer that to people, but I can learn from them, too."
Schwartz agrees; she and Mundy co-chair the Principal OneAbility ERG, dedicated to creating a place of belonging for all abilities. "I was able to open up about my vulnerability, and I may not have been able to do that at other companies," Schwartz says; she's a human resources business partner at Principal. "I feel like I can be a balanced parent and a balanced person."
Common mental health support in an EAP may include:
Counseling for anxiety and depression
Crisis intervention
Grief support
Support for behavioral health issues such as eating disorders or addiction
Research backs up the importance of ERGs to mental health and belonging. Because of their very nature— building community and connection—ERGs help employees feel authentic at work and find purpose.7 Belonging at work can translate directly to performance, reducing turnover, increasing job performance, and decreasing sick days.8
EAPs: Providing outside expertise
As much as mental health affects the workplace, it also affects financial security. If you're more stressed, you're more likely to suffer financial worries, and vice versa.9
At work, benefits such as employee assistance programs can help—but they too often carry a stigma. "People don't know about them, don't know where to start, and don't know the full range of what they offer," says Shelley Garrington, a director at Principal.
The pandemic only accelerated both the employee desire for support like those offered in EAPs, and employers' focus on mental well-being. Seven in ten workers believe their employer is now more concerned about mental health than in the past.10 But only about half of employees that have access to an EAP are even aware of the benefit.11
Mundy was able to turn to an EAP during a past traumatic family event; it helped. "You often don't know who to start with or where to start, and it's an avenue to open doors," she says.
The awareness of and willingness to access EAPs may be changing—for both employers and employees. Retaining talent means meeting the human side of employees, says Mundy, and willingness to talk about EAPs helps destigmatize them, Schwartz has noticed.
"I had a team member that talked about going to a counselor—she considered that professional part of her care team, and a proactive way to strengthen her health," Schwartz says. "I was always so proud of her, especially for making the conversation common. The more we do that, the more people can find out how to get the help they need."