What's an IRA?
In short, it's an account that allows your money to grow in a tax-advantaged way. Depending on the type of account you choose, you can pay taxes now and watch your money grow tax-free—or you can defer paying taxes until retirement.
Why choose an IRA?
IRAs are built to help you pay for everyday things and even bigger dreams after your working years. They enable you to reduce the tax burden on your finances and allow you to save beyond an employer's retirement plan.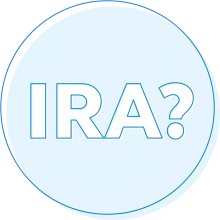 A traditional IRA lets you deduct savings contributions from your taxes, which lowers your taxable income for the year -- but you pay taxes on the money when you withdraw it in retirement.
A Roth IRA uses after-tax money, meaning you pay taxes on your contributions at the time you put the money in and, future withdrawals are tax free as long as you follow Roth IRA rules.1
Traditional IRA
Roth IRA
Are there income limitations?

You must have earned income, but there's no maximum limit.2

To contribute the full amount allowed by the IRS in 2023, your Modified Adjusted Gross Income (MAGI) must be below:

$138,000 for a single tax filer.
$218,000 for a joint tax filer.

How much can you contribute?
Up to $6,500; if you're 50 or older, you can contribute an additional $1,000 in 2023.
When do you pay taxes? 

In retirement, when you withdraw your savings.

Up front, before you contribute. Your earnings then grow tax free. There are no taxes or penalties on withdrawals made after age 59½.1

What are the rules about withdrawals?

You can withdraw contributions and earnings penalty-free at age 59½, or earlier for certain hardships. You have to start taking required minimum distributions after age 73.

Learn more about traditional IRAs

You can withdraw contributions at any time, without penalty. You can withdraw earnings, penalty-free at age 59½, or earlier for certain hardships, as long as you've followed the rules of a Roth IRA.1 You're not required to withdraw your money at any age.

Learn more about Roth IRAs
Ready to get started?
Already a Principal customer?
Login to complete our easy rollover process.
New to Principal?
Find out what Principal has to offer for your rollover IRA.
Give us a call. 
Want help deciding how to invest? Let's talk about your options. 
Monday - Friday, 
8 a.m. to 5 p.m. CT
Get personalized advice from a financial professional.
Whether you still have questions or you're ready to work with Principal, a financial professional can help you take the next step.
Find a financial professional
1 Your account must be open for 5 years and you must be over 59 ½ to be eligible for qualified tax-free withdrawals of earnings.
2 Deductibility of contributions is dependent upon coverage by an employer-sponsored retirement plan for you or your spouse and your Modified Adjusted Gross Income (MAGI).
This document is intended to be educational in nature and is not intended to be taken as a recommendation.
Investment and Insurance products are: 
• Not Insured by the FDIC or Any Federal Government Agency 
• Not a Deposit or Other Obligation of, or Guaranteed by, Principal Bank or Any Bank Affiliate 
• Subject to Investment Risks, Including Possible Loss of the Principal Amount Invested 
The subject matter in this communication is educational only and provided with the understanding that Principal® is not rendering legal, accounting, or tax advice. You should consult with appropriate counsel or other advisors on all matters pertaining to legal, tax, or accounting obligations and requirements.

Financial professionals are sales representatives for the members of Principal Financial Group®. They do not represent, offer, or compare products and services of other financial services organizations.

Insurance products and plan administrative services provided through Principal Life Insurance Co. Securities offered through Principal Securities, Inc., 800-547-7754, member SIPC. Principal Life and Principal Securities are members of Principal Financial Group®, Des Moines, IA 50392.

Principal® SimpleInvest is a discretionary investment advisory program that offers diversified investment portfolios for a fee. Principal® SimpleInvest is sponsored and managed by Principal Advised Services, LLC, which consults with Principal Global Investors, LLC in the creation of the portfolios and the selection of the underlying portfolio investments. Trading and execution services provided by RobustWealth, Inc.  Principal Advised Services, LLC, Principal Global Investors, LLC, and RobustWealth, Inc. are members of the Principal Financial Group®. Brokerage and custodial services provided by Apex Clearing Corporation, member FINRA, NYSE and SIPC.  Apex Clearing Corporation is not affiliated with any member of the Principal Financial Group®. Principal® SimpleInvest portfolios are comprised primarily of Principal® products, including affiliated mutual funds and ETFs. 

Please refer to the Form ADV (PDF) and Form CRS (PDF) for Principal Advised Services, LLC, the Miscellaneous Fee Schedule (PDF) for Apex Clearing Corporation, and other applicable disclosures and agreements for important information about Principal® SimpleInvest and its services, fees and related conflicts of interest.  All investments have inherent risks. Investing in Principal® SimpleInvest portfolios does not guarantee profit or protect against loss.

Principal, Principal and symbol design, and Principal Financial Group are trademarks and service marks of Principal Financial Services, Inc., a member of the Principal Financial Group®, Des Moines, IA 50392.
Any links to third-party websites are provided for your convenience and informational purposes only. Principal Financial Group is not responsible for the information contained on third-party websites.