How to manage debt in retirement
Nearly half of Americans expect to retire with debt. A few strategies can help you pay down (or pay off) those bills and enjoy retirement.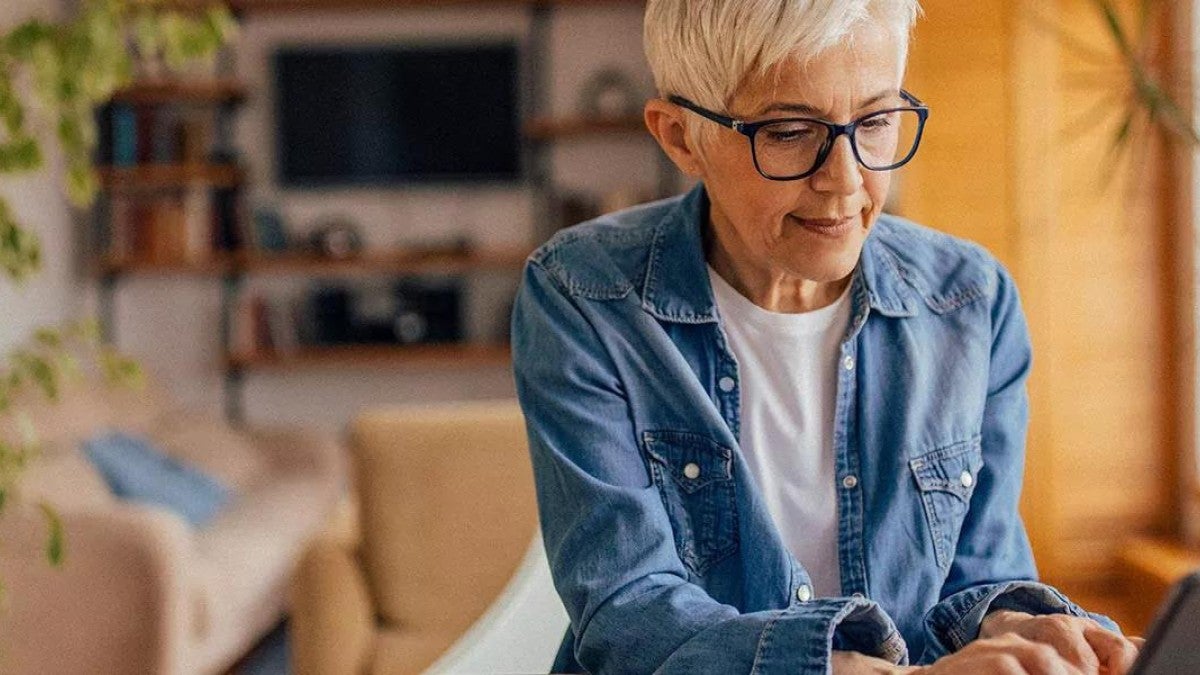 In an ideal version of retirement, you'd start your post-working years with no debt so that you could spend your hard-earned retirement savings just as you pleased.
In reality? People of or nearing retirement age have mortgages, credit card balances, and other debt. The average debt for baby boomers, or people age 57 to 74, is almost $26,000, and the average mortgage balance is $191,650.1 "While many people choose to set a goal to go into retirement with no debt, for others that's unrealistic," says Heather Winston, assistant director of financial advice and planning at Principal®.
If you're already retired and have debt, or near retirement and can't pay off your debt, that's OK. Here are a few ways you may find balance.
Create a budget that includes debt payments.
Your debt might be short-term, such as a one-time expense you had to put on a credit card, or longer term—the remaining balance on a mortgage, for example. A budget that you consistently reassess can help you stay on top of those payments and ensure that you have enough for the expenses you'll encounter. "Many people vastly underestimate their spending as they go into retirement," Winston says. "Saying you can live off $60,000 a year and doing it are two very different things. Stay keenly aware of what you're spending and whether that's increasing your overall debt."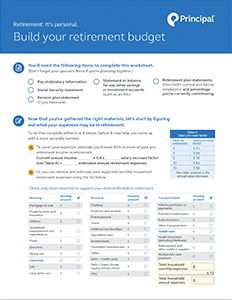 Use our retirement budget worksheet (PDF) to start estimating how much income will need to go toward debt payoff.
  Tip: Considering a big retirement distribution to pay off debt? That may come with big tax implications. For guidance, meet with your financial professional or tax advisor.
Retirement debt tip: Gradually ease into your retirement spending plan. Spend a little less every month (and see if you can pay off a little more debt, too) until you reach your goal, rather than becoming overly restrictive immediately. "It's like minimizing your carbs rather than completely eliminating them all at once," Winston says. "Can you do either? Of course. But removing them completely may have immediate impacts to your health, sanity, and emotional state."

Choose a debt payoff and management approach.
Retirement brings some changes to how you live (no commute, hopefully, and more free time). But a lot of the basics remain the same, and that includes how you pay off debt. The three debt-payoff strategies that might have helped you when you're earning an income also work when you're not.
How to prioritize your debt payoff
Debt with high or variable interest rates, such as credit cards, medical debt, home equity loans
Debt you've co-signed, such as student loans (the borrower is responsible for the debt if you die)3
Debt with low interest rates such as some car loans
Mortgage debt with fixed interest rates
Retirement debt tip: Is your debt small enough that income from a part-time, short-term job might help you pay it off—and get to your retirement goals more quickly? Or is it worth it to delay retirement by a few months and put the extra income toward debts? It might not be exactly what you envisioned (and it's not a sign of a failed retirement, either), but if your goals are to pay off your debt quickly, it may help.
Think you may need to work in retirement? Read why and how one couple kept jobs after the typical retirement age.
Look at the big debt-income picture.
Your retirement savings aren't infinite; at some point, unless you're an outlier, your money may run out. Debts that remain after death are generally paid from the estate before any money passes to heirs.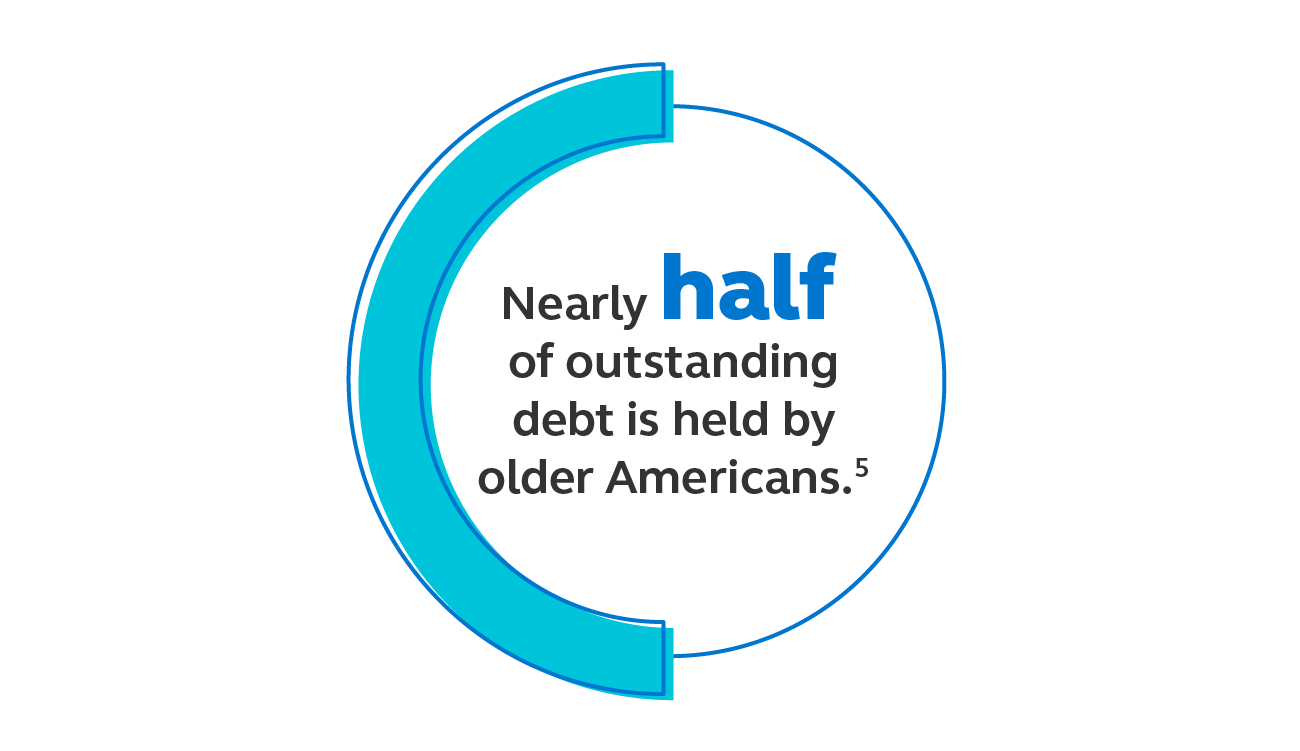 That may help you frame how you manage your retirement debt by spending less or drawing income differently to help eliminate high-interest rate debt.
"How can you make your money work for you instead of the other way around?" Winston says. "We have an unfortunate belief system that retirement years should be when we 'enjoy more' but that's not true for everyone. For many, retirement years bring anxiety and concerns about outliving their assets."
Retirement debt tip: You may have the urge to fit in a lot of your retirement goals right away. But can you launch your post-work years with a conservative spending plan to help you adjust to a realistic budget and a manageable debt payoff plan? "As you transition to living off of what you've saved, it's incredibly important to have a plan and to stick to it," Winston says.
What's next?
Log in to principal.com to check in on your retirement account balance, increase your deferment, and see how close you are to your retirement savings goals. Get started.
1 https://www.experian.com/blogs/insights/2020/10/state-credit-2020/, https://www.cnbc.com/2021/11/16/46-percent-of-americans-expect-to-retire-in-debt.html
2 https://www.magnifymoney.com/blog/news/dream-retirement-survey/#DespiteLoftyKeyfindings
3 https://www.forbes.com/advisor/retirement/seniors-debt-statistics/
4 https://www.ncoa.org/article/get-the-facts-on-senior-debt
5 https://www.ncoa.org/article/get-the-facts-on-senior-debt, https://www.gao.gov/products/gao-21-170
The subject matter in this communication is educational only and provided with the understanding that Principal® is not rendering legal, accounting, investment or tax advice. You should consult with appropriate counsel, financial professionals or other advisors on all matters pertaining to legal, tax, investment or accounting obligations and requirements.
Investment advisory products offered through Principal Advised Services, LLC. Principal Advised Services is a member of the Principal Financial Group®, Des Moines, IA 50392.