Single and over 50? Here's how to prepare for retirement.
The number of single Americans over age 50 is growing. And their retirement needs can differ compared to couples. Take a moment to read through eight essential considerations.
The singles scene is looking a little gray around the temples.
More than a quarter of U.S. adults ages 50 to 64 and a third of those 65+ are single—that is, not married or in a committed romantic relationship.1 And the majority of these individuals say they aren't looking to couple up—especially those who are divorced or widowed.
---
Share of U.S. adults who are single:1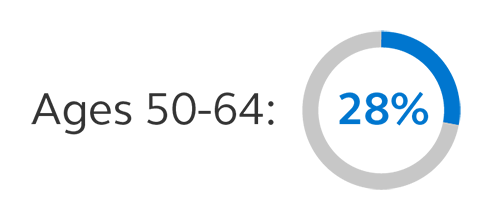 ---
This sort of independence can be empowering. And financially, it can have its advantages, such as lower expenses and savings options that can benefit individuals retiring single.
There are just a few special considerations when planning for retirement as a single person. Take a moment to read through eight ways you can prepare.
1. Build up your emergency savings.
Large expenses can come out of nowhere. That's why it's important to have emergency savings. Consider it a backup plan in case of an unforeseen hardship.
"A healthy emergency savings includes three to six months of expenses," says Stanley Poorman, a financial professional with Principal®. "But being financially independent may require some additional savings in this area. So, it's important to look at how to boost your safety net while also continuing to build your retirement savings."
2. Plan strategically with annuities.
Singles may be better poised to maximize their payout from a pension or other annuity. For example, the payout is higher on a single life-only annuity because it ends when you die and generally isn't transferable to your heirs.
3. Know your Social Security options.
If you were previously married for a decade or more, consider all your options, including claiming benefits based on your ex's earnings or claiming a widow or widower benefit. If possible, you may want to delay receiving Social Security until as late as age 70 to receive a larger monthly payment—up to 32% more than at full retirement age.2
4. Be aware of prior commitments with your retirement accounts.
Evaluate your distribution options—IRA, 401(k), and any others—based on your marital status. If you're divorced, there may be a qualified domestic relations order (QDRO) involved for splitting 401(k) benefits or an IRA, which can create confusion on which options for withdrawals are available before age 59½. A financial professional can help you navigate this.
5. Develop a (real-life) social network.
We're not talking Facebook—rather, your local community. The number of households headed by a 65+ renter is on the rise.3The Golden Girls may have been ahead of their time: Even if you don't share retirement housing like the four fictional ladies in Miami, think about surrounding yourself with a support system as you age, encompassing everything from home maintenance to companionship.
6. Consider what you want your life to look like in retirement.
"So much of retirement focuses on the numbers, but as you near retirement, it's also important to consider who you'll be in retirement and what sort of lifestyle you'd like to enjoy," Poorman says. "What activities will bring you joy and purpose as you transition into your next stage of life?"
If singlehood tends to be synonymous with flexibility, you may even consider relocating to a more retiree-friendly city, state, or foreign country to stretch your savings. ("Retiree-friendly" often means lower taxes.)
So much of retirement focuses on the numbers, but as you near retirement, it's also important to consider who you'll be in retirement and what sort of lifestyle you'd like to enjoy."
Stanley Poorman, financial professional
7. Consider investing in long-term care insurance.
Long-term care insurance can help ease the financial burden if you need constant care in retirement and can't rely on a partner. Many Americans will spend as many years in retirement as they did at work—especially women, who tend to live longer. The cost of premiums tends to be cheaper when you buy at a younger age.
8. Stay on top of your estate planning.
Without a partner to carry out your wishes, decide how to distribute assets in your will early on—whether it's to children, nieces and nephews, or a charitable organization. For those who have children and remarry, a will can avoid inadvertently disenfranchising your kids.
"It's also important to consider your medical and financial power of attorneys," Poorman says. "There may be an instance where you're not able to make big decisions, and knowing that you have someone who will be able to act in that capacity for you can give you peace of mind."
1 Pew Research, A Profile of Single Americans, August 2020.
2 Social Security Administration, Retirement Benefits.
3 Joint Center for Housing Studies of Harvard University.
The subject matter in this communication is educational only and provided with the understanding that Principal® is not rendering legal, accounting, investment or tax advice. You should consult with appropriate counsel, financial professional, or other advisors on all matters pertaining to legal, tax, investment or accounting obligations and requirements.
Insurance products issued by Principal National Life Insurance Co (except in NY) and Principal Life Insurance Co. Plan administrative services offered by Principal Life. Principal Funds, Inc. is distributed by Principal Funds Distributor, Inc. Securities offered through Principal Securities, Inc., 800-247-1737, member SIPC and/or independent broker-dealers. Principal National, Principal Life, Principal Funds Distributor, Inc. and Principal Securities are members of the Principal Financial Group®, Des Moines, IA 50392.