Achieving financial security
87% of plan sponsors agree that financial wellness programs help employees better prepare for retirement.* See how we encourage steps toward financial security by embedding education and financial wellness into our participant education resources.
Over 50% of participants are wanting to learn more about estate planning, will preparation, and investments.*
*Principal Retirement Security Survey, June 2022.
87% of plan sponsors agree that financial wellness programs help employees better prepare for retirement.*
Welcome
Get started with Principal® Real Start.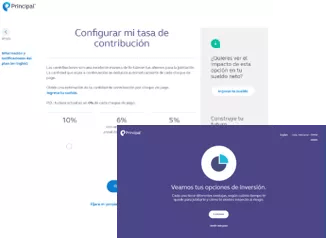 As they get started at Principal, individuals will encounter Principal® Real Start. Here, they will get set up with their online access and get started in their plan.
Defined contribution participants can also set up their contribution rates, select their investments, roll in eligible outside assets, elect beneficiaries, and more.
#2 ranked traditional enrollment experience with a perfect score for the beneficiary part of the process1
2
Average deferral with Principal® Real Start is 2x higher compared to those who used other enrollment methods.
2
Nearly 40% of users are saving 10% or more, and 1 in 3 participants choose to auto-escalate up to 10%.
Spanish Principal® Real Start3
Average deferral rate is over 7%.
More than 30% are saving at 10% or more.
Another 1 in 3 are auto-escalating their way up to 10%.
Participant website
Log in and secure account on the participant website.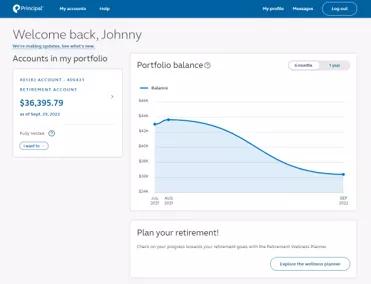 When a participant logs into their account, they'll see a consolidated view of their different accounts all in one spot. From there, they can dig into their specific accounts.
From a defined contribution perspective, our participant website is the main hub for participants to learn about and make changes to their retirement accounts. On their landing page, they'll be able to quickly see their account balance, Retirement Wellness Score, and more.
For defined benefit accounts, participants can review their current benefit, and also estimate their future benefits.
Nonqualified accounts allow you to see your account balance over time along with tracking recent distributions and contributions.
1 and mobile communications2.
Award-winning participant website and online capabilities
3
Silver for participant website educational resources.
Understand plan information
Understand plan information.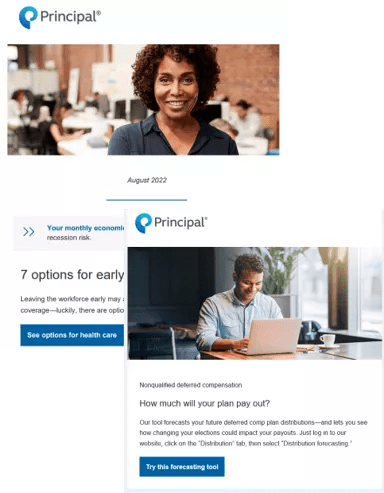 Participants can learn about their plans through various touchpoints. For DC, DB, and NQ participants, the timely financial wellness newsletters provide topical educational information along with education about their plans. ESOP resources will be coming soon.
Principal Hola Futuro
Helping Hispanic employees feel more financially secure.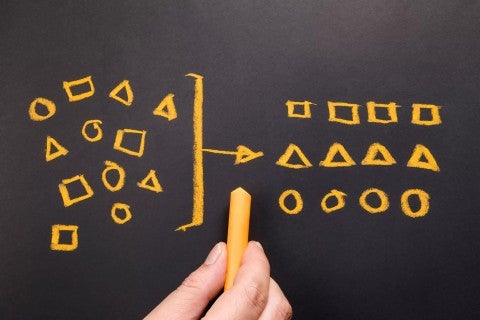 Support Hispanic workers with distinct tools and transcreated resources—not just translated—that reach and educate participants in a matter that's culturally relevant.
Transcreated webinars
Budgeting resources
Account security information
Fliers and handouts
Retirement Wellness Score
See if you're on track for retirement.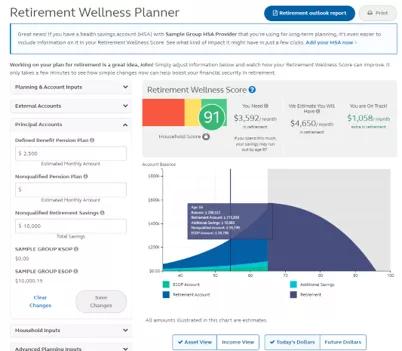 This robust planner gives participants a holistic picture of their retirement readiness, helping them find out how much income they may need in retirement and whether they're currently saving enough to meet that need.
1
40% higher average deferral among participants who use our digital resources.
Principal app
Download the Principal®
 

app.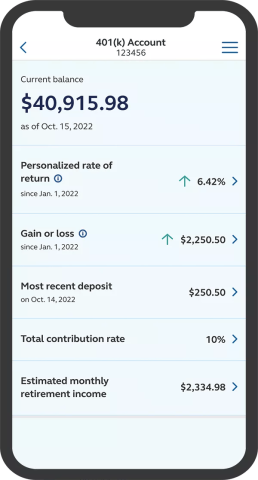 The Principal® app is streamlined for convenience and speed. It puts participants in control—getting them the answers they want quickly and letting them make changes efficiently. It's all about helping them plan for the future while helping them get back to living their lives as quickly as possible.
Available in English and Spanish
1
4.8 star rating - Apple - 75% of our user base on iOS
1
4.6 star rating - Google Play
2
3.71% average deferral increase for 401(k) participants
Principal Milestones
Elevating the financial wellness experience.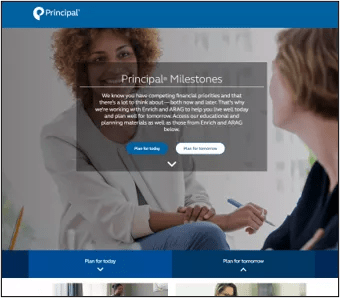 Our financial wellness experiences work alongside and together with our education experiences. We understand that as a participant arrives at certain points in their life, their needs may change. Some may need retirement education resources, while others are looking to elevate their experience with financial wellness.
That's why we have easy, personalized education and financial wellness experiences that drive engagement and promote outcomes along the way.
Participants can learn about the financial topics that matter most to them.
1
44% higher average deferral among 401(k) participants who use Principal® Milestones.
Prepare for retirement
Get ready for retirement.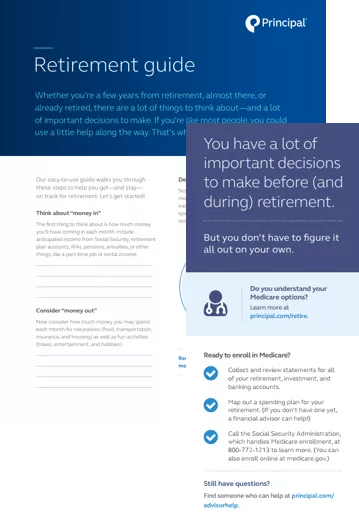 We understand that as they get closer to retirement, participants have a number of questions for what their next steps will bring. Our Retirement Transition Program and Benefit Event Experiences help participants through these life transitions.
Learn about distribution options through the Benefit Event Experience.
What participants want to know. When they want to know it.
Our monthly webinars strive to increase retirement readiness and improve financial wellness with helpful tips and strategies on important financial topics. Available live or access our robust library of on demand webinars.
2023 topics