5 tips for offering benefit packages for employees
Peers, employees, budget, and future goals all figure into creating a benefits program for employees.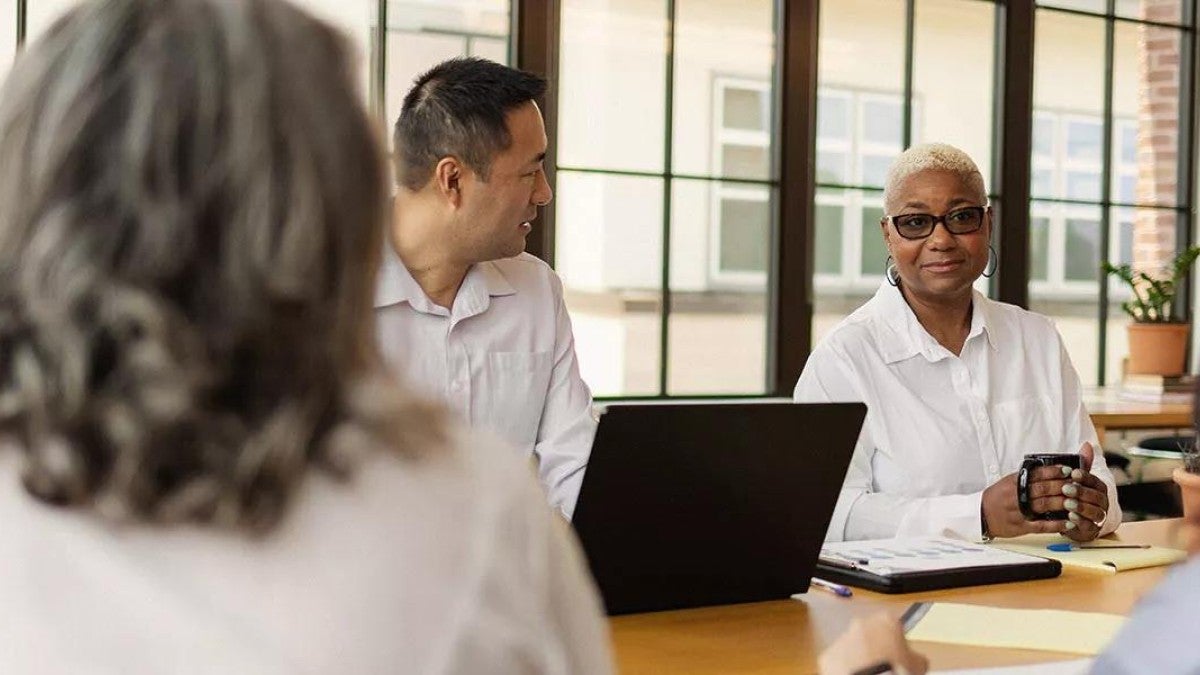 Every year, people like you start new businesses. In 2021 alone, 5.4 million filed new business applications.1
Recruiting talent and retaining key people is important to the stability and growth of a new enterprise. One way to stand out from the competition? A benefits package.
But when do you add employee benefits? And which ones? Then how much will a program cost? All important questions as you begin to grow that business.
"It can be hard to decide when's the right time to add benefits. And there's no magic formula," says Mark West, national vice president of business solutions for Principal®. "Think about the moment you decided to add an employee and how you made that decision. It's the same sort of process, especially with the competition out there for good people."
These considerations can help.
1. Start with traditional benefits and build from there.
When current and potential employees think about benefits, they're typically looking for traditional options such as employer-sponsored health insurance, life insurance, and retirement plans. Those are a good place to start.

As you consider the right time and the best options to begin an employee benefit package, remember that the goal is two-pronged, says West: "You want to protect your employees and protect your business."
2. Learn what's important to your employees and working for your peers.
Involving employees in the discussion, says West, "helps you understand what matters to them, and in turn they can understand what's important to you. Talk to them about options that you can afford, and options they could pay for."
You'll also have to find your sweet spot: You can't customize a benefit package for every employee, but you can find the benefits that appeal to the broadest group. "If employees feel like you just chose an easy one-size-fits-all, they might get frustrated because they don't feel it addresses their true worries or goals," he says. So ask for employee input, and keep communicating as you build your benefits program.
Also reach out to other business leaders, whether they're in your industry or not. You'll likely hear that a benefits program for employees remains crucial to retaining valuable workers. "Organizations you're involved in can provide insight," West says. "You might hear that business owners didn't feel like they needed an employee benefit package before, but they need to offer something to stand out now."
Not sure how your proposed benefits measure when compared to the competition? The Principal Benefit Design Tool can help you compare your benefits package to other organizations in your industry and region.
3. Plan for the impact on human resources.
Human resources pros are typically tasked with administering a benefits package—figuring out who is eligible, managing enrollment, and complying with state and federal regulations. (The U.S. Employee Benefits Security Administration offers background information.)
If you have an HR department, you may need to take stock of its ability to add benefits management work on top of other duties. If there isn't capacity or you don't have an HR department, options exist to outsource the work, says West, even if you're a small business.
4. Take the benefit costs to you and employees into account.
How much each employee benefit costs depends on a lot of factors. Most costs for traditional benefits tend to be largely covered by employers, with employees chipping in a smaller portion. Some flexible benefits, on the other hand, may not cost you anything at all.
It's easy to overestimate the cost of adding benefits. "There are options to choose what is paid for by the employer and what is paid by the employee," West says.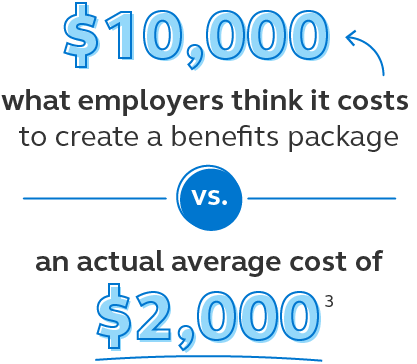 5. Set flexible goals for your employee benefits.
As your business grows and matures, the nature of your employee benefits may change, too. "You didn't start your business trying to do everything at once, and the same applies to benefits," West says. "It's OK to start small. Find someone who can help you choose the benefits you can afford to do and set goals for what you want to do in the future."
1 U.S. Census Bureau Business Formation Statistics
2 U.S. Employee Benefits Security Administration
The subject matter in this communication is educational only and provided with the understanding that Principal® is not rendering legal, accounting, investment or tax advice. You should consult with appropriate counsel, financial professionals, and other advisors on all matters pertaining to legal, tax, investment or accounting obligations and requirements.
Insurance products issued by Principal National Life Insurance Co (except in NY) and Principal Life Insurance Company®. Plan administrative services offered by Principal Life. Principal Funds, Inc. is distributed by Principal Funds Distributor, Inc. Securities offered through Principal Securities, Inc., member SIPC and/or independent broker/dealers. Referenced companies are members of the Principal Financial Group®, Des Moines, IA 50392.