Top 3 defined contribution2

#1 defined benefit3

#1 nonqualified deferred compensation4

#1 employee stock ownership5

Top 4 pension risk transfer6
Retirement planning expertise you can count on
Count on our expertise to find the right solutions to help you attract and retain employees. As a total retirement solutions industry leader, we offer multiple options and a simplified experience that can grow with your business.
And with Principal, an award-winning recordkeeper,1 you can take advantage of having multiple retirement plans with one provider that can benefit you and your employees.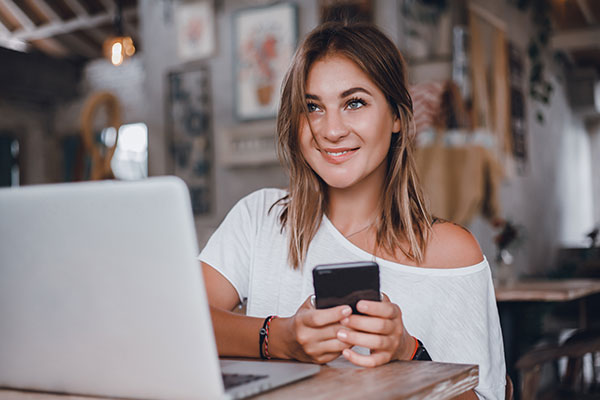 Award-winning website technology
Our story centers around the blend of people and evolving technology. We use innovative technology to transform retirement experiences and supplement human interactions.
Plan sponsor website
Our award-winning technology can help free up your time from the day-to-day aspects of the plan so you can focus on helping your participants create a more secure financial future based on their goals.
#1 plan sponsor website including DALBAR Seal of Excellence.7
We're highly rated in several categories:
Reporting8

Homepages and dashboards9

Participant data and management9

Website, reporting and tools10

Payroll integration11
Participant website
Your employees will experience our highly rated participant website—ranked #4 out of more than 30 websites.11
#1 in participant enrollment materials, support, and processing.12
Recognized top provider of financial wellness programs.13
We have expertise in numerous areas, including the following:
Tools and calculators9

Educational resources9

Online and mobile financial wellness offerings14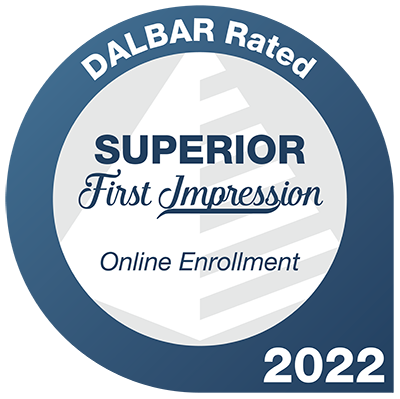 Our onboarding participants experience
*DALBAR rated 2022 Superior First Impression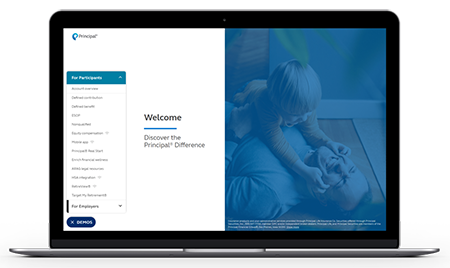 For illustrative purposes only.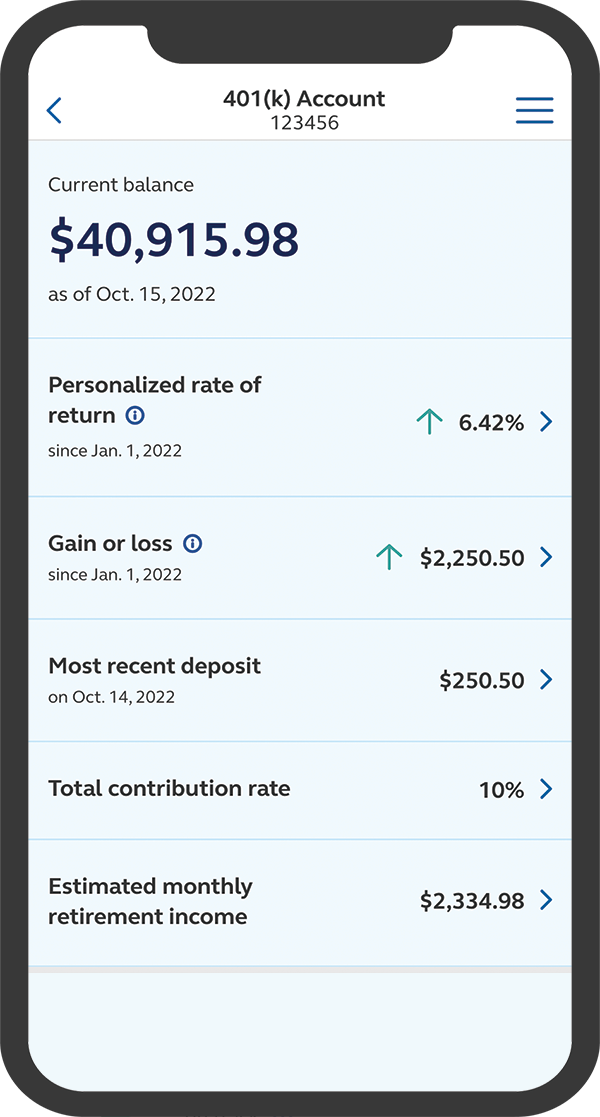 Available in Spanish16
For illustrative purposes only.
Principal® app
Our mobile app provides quick answers and lets participants efficiently make account changes. It's about helping them plan for the future while getting them back to living their lives as quickly as possible.
Download the Principal App:
iOS App Store  or  Google Play Store
Standard text and data rates apply.

Rated 4.8 out of 5 stars on iOS App Store13,14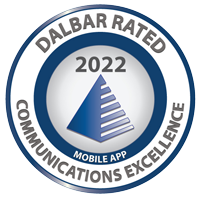 Principal® app received Dalbar's Communication Seal of Excellence for both the iOS and Android apps.15
Capabilities to help drive outcomes
Planning for retirement can be overwhelming for your employees. They have to figure out how much they may need to save and how long those savings may last while preparing for variables like the unpredictable market. That's no easy task—especially when they go it alone. That's where we can help.

Principal was honored to win numerous awards in collaboration with our clients and for broad-based communication campaigns.
Tailored
Tailored and personalized experience designed to help individuals with their unique needs.
Participant education campaigns and newsletter15,16
Monthly participant webinar program with focus on financial wellness17
Personalized projections16
Beyond retirement
Our services are designed to help participants beyond retirement savings.
COVID-19 special projects16
Beneficiary support18
Account access security and protection18
Consolidated view
Navigate to your retirement solutions in one place from a single sign-on.
Conversions and plan transitions16
Voice assistant application16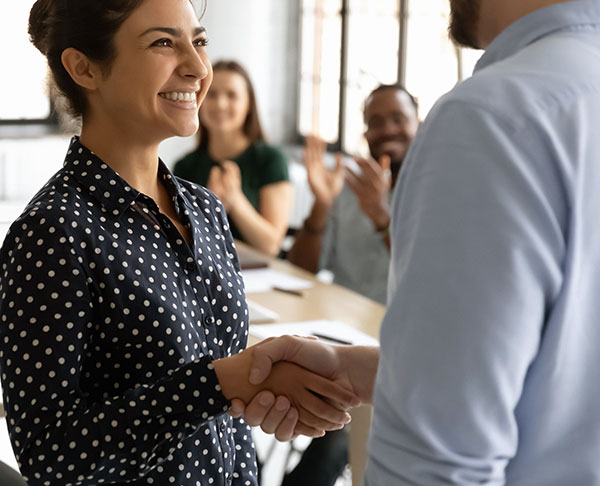 Our people-first approach makes us a top workplace for our employees
By purposefully investing in secure, reliable, and innovative technology, we strive to enhance our capabilities and exceed your expectations. Yet we know it's our people who make the real difference. Our multi-awardwinning service teams won the following awards:
2022 PlanAdviser retirement awards for quality and consistency of client service teams19

Escalent top provider

20

for:

Plan sponsor service/relationship team
Plan sponsor problem resolution
Fiduciary services, support and legislative updates
Principal provides a workplace where our employees feel empowered to bring their best selves to work on your behalf every day. And Principal is listed as one of the Ethisphere's World's Most Ethical Companies.21
Read about workplace excellence at Principal.
---
1 2023 PLANADVISER Adviser Choice Awards
2 Based on number of DC plan participants, 2022 PLANSPONSOR Recordkeeping Survey, July 2022.
3 Based on number of plans, PLANSPONSOR Defined Benefit Administration Survey, May 2021.
4 Based on number of Section 409A plans, PLANSPONSOR Recordkeeping Survey, July 2022.
5 Based on number of plans, 2022 PLANSPONSOR Recordkeeping Survey, July 2022.
6 Based on total PRT assets, LIMRA Secure Retirement Institute, Dec. 31, 2022.
7 DALBAR's DC Web Monitor Program, Q3, 2022.
8 2022 PLANADVISER Retirement Award, November 2022.
9 Corporate Insight, Retirement Plan Monitor, December 2022.
10 PlanSponsor Best in Class 2022 $200m-$1B asset category.
11 2022 PLANADVISER Retirement PlanAdviser Award
12 2022 PLANADVISER retirement plan advisor awards.
13 Escalent, Cogent Syndicated, Retirement Plan Advisor Trends, September 2022.
14 PlanSponsor Best in Class DC Providers, March 2023 awards – Micro market under $5 million, small market $5-25m, midsize market $50-$200m
15 2022 IMEA STAR Award
16 2023 P&I Eddy Awards
17 2023 IMEA Star Award
18 2022-PSCA
19 2023 PLANADVISER Adviser Choice Awards
20 Escalent, Cogent syndicated, Retirement Planscape, May 2022.
21 2023 Ethisphere Most Ethical Companies honoree list https://woldsmostethicalcompanies.com/honorees
Insurance products and plan administrative services provided through Principal Life Insurance Company®, a member of the Principal Financial Group®, Des Moines, IA 50392.
Principal®, Principal Financial Group®, and Principal and the logomark design are registered trademarks of Principal Financial Services, Inc., a Principal Financial Group company, in the United States and are trademarks and services marks of Principal Financial Services, Inc., in various countries around the world.
2831269-042023 | 04/2023